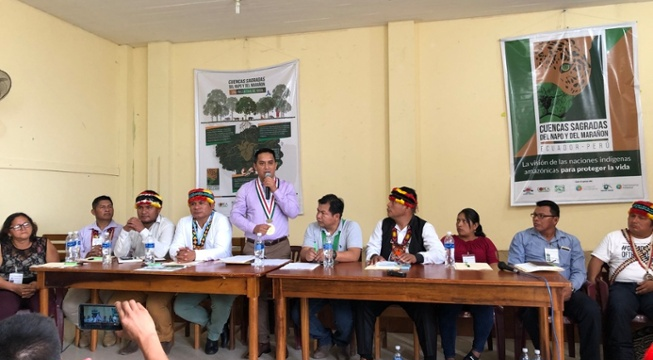 Indigenous leaders from the Achuar, Shuar, Wampis, Awajun, Shiwiar, and Kichwa held a historic summit in Santa Maria Nieva, Peru.
The Amazon Sacred Headwaters Initiative (ASHI), which was formally launched in the fall of 2017 by Pachamama Alliance, Amazon Watch, and CONFENIAE—the indigenous federation representing Ecuador's Amazon region—made some significant strides in the first half of 2019.
The ASHI vision of permanent protection of nearly 60 million acres of rainforest territory in the headwaters of the Amazon has inspired a whole new level of collaboration among the indigenous groups in Ecuador and Peru.
Indigenous Collaboration
A series of ASHI meetings—attended for the first time by representatives of the various indigenous nationalities from Peru—were held in early 2019. One specific gathering in Peru in March to which many indigenous leaders from Ecuador traveled was particularly significant. The border between Ecuador and Peru had been redrawn in the midst of World War II and it arbitrarily sliced through indigenous territories separating families and cultures.
Various attendees movingly spoke of how this gathering and the vision of the Sacred Headwaters initiative fulfilled prophecies they remember hearing from their grandfathers that one day their people would be united again.
AIDESEP—the indigenous federation representing the Amazonian people of Peru—is now fully on board the Initiative and is a part of a recently created ASHI governing council. The council is made up of three members from AIDESEP, three from CONFENIAE, one from COICA—the organization representing the indigenous people of all nine Amazonian countries—and three from the NGO partners.
Decisions about budgets, plans and the overall direction of the Initiative are now made by the council. The challenges and the beauty of the operation of such a council are now all being worked out.
Fundraising and International Awareness
This year ASHI has had significant fundraising success receiving nearly $1.2 million in support from international foundations. This financial base is allowing a new and critically important phase of the Initiative to be launched. In late July 2019, an ASHI Commission will meet for the first time. The initial Commission will be made up of 18 international experts in the fields of regional planning, indigenous rights, ecological development, conservation finance, and others. Additional members will be added over time.
The very existence of the Commission will bring national and international credibility and visibility to the ASHI. The work of the Commission will be carried out over the next 12 months with the goal being the creation of an ASHI regional ecological development plan—including long-term financing strategies—that is supported by all of the key stakeholders of the Initiative: indigenous groups, NGOs, and local and national governments.
These are ambitious plans, but consistent with a visionary initiative. We will keep you posted on progress.