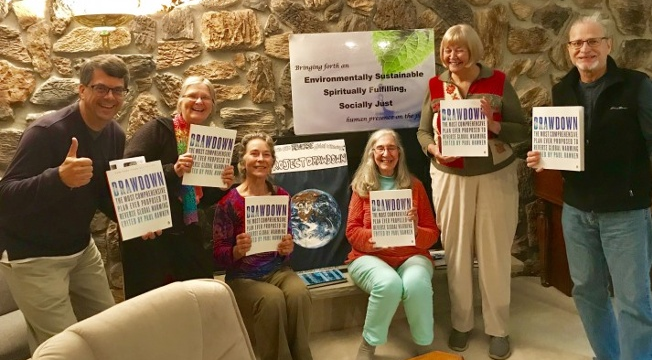 The Pachamama Alliance Rochester, New York Community poses with their Drawdown books as they explore the global warming solutions the Initiative is based on.
The Pachamama Alliance Drawdown Initiative is spreading the message of possibility for reversing global warming and inspiring people to get into action based on the 100 scientifically proven solutions from Project Drawdown that can begin to roll back greenhouse gas emissions by 2050.
The Drawdown Initiative consists of a series of workshops that support people in finding their unique contribution to reversing global warming. Since being piloted in August 2017, Pachamama Alliance Communities and individuals all over the world have taken this program and shared it with their networks, awakening others to the possibility of reversing global warming.
Drawdown Initiative Creates Impact Around the World
In May 2018, Pachamama Alliance held the first ever in-person training for folks interested in learning lead Drawdown Initiative workshops. There are now 90 "conveners" trained and leading workshops in 9 countries.
Since the launch of the program, conveners have hosted at least 250 workshops with over 5,000 participants, and the curriculum for the Reversing Global Warming: Introduction to Drawdown workshop has been translated into 3 languages: Spanish, Japanese and Chinese.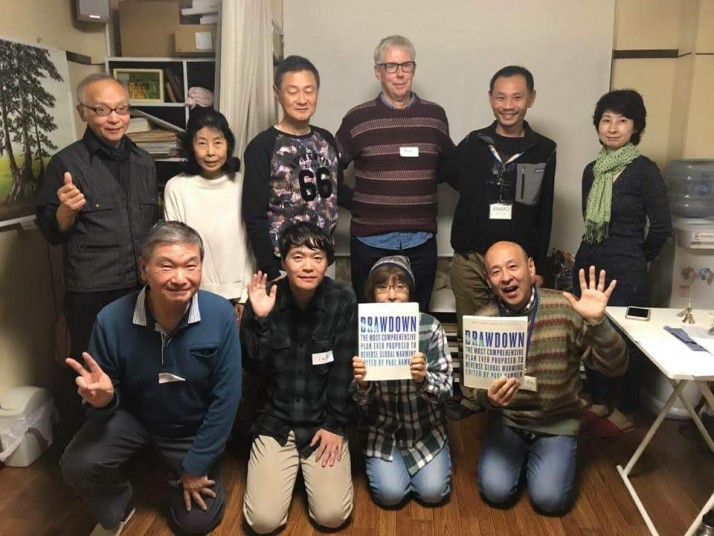 Pachamama Alliance Japan volunteers who helped translate materials into Japanese.
The program is thriving around the world as people come together to spread its message to diverse audiences including churches, businesses, schools, and environmental organizations.
Drawdown-inspired Sermon
Kristin Wildensee learned about Drawdown Initiative in the Game Changer Intensive online course and was inspired to share it with her network, so she held a 2-hour Introduction to Drawdown workshop in the Iowa City, Iowa area. One of the participants was Reverend Diane Dowgiert, the minister of the local Unitarian Universalist Society, who said: "I left your presentation feeling genuine hope about climate change for the first time in a very long time. I was so inspired by your Drawdown presentation that I wanted to do what I could to spread the message." True to her word, Reverend Diane brought the message to her entire congregation in a powerful sermon with resounding success. And Kristin has gone on to train others to lead the workshops in their communities.
Local Government Gets Involved
The Drawdown workshops are also reaching local government leaders in powerful ways. Emily Libla brought the Reversing Global Warming: Introduction to Drawdown workshop to a group of 130 elected officials in the Kansas City, Missouri area, inspiring them to look for ways to bring global warming solutions to their communities. The workshop was featured in the local newspaper, further extending the reach of this powerful and timely message.
Pachamama Alliance Communities Take on Drawdown
Pachamama Alliance Communities are really leading the activities around the Drawdown Initiative, creating new opportunities to engage with this message in their areas. The Rochester Pachamama Community has hosted more than 40 Drawdown Initiative workshops and events, and created a Drawdown Ambassador team to help spread the word. The Southern Oregon Pachamama Alliance Community has hosted 25 workshops, and has monthly Drawdown Solutions Potlucks where community members come together to discuss the Drawdown Solutions.
Reaching Online Audiences
In addition to Communities and individuals hosting in-person workshops, the Pachamama Alliance started offering a monthly webinar version of the Introduction to Drawdown workshop in 2018. This has allowed people who are unable to attend the local workshops to have the experience virtually with people from across the world.
Since launching in November 2018, the Introduction to Drawdown webinar has been hosted 5 times to 95 participants.
Here's a little bit of insider information: a self-guided online course adapted from the Introduction to Drawdown workshop is currently under development! With a launch date of fall 2019, this new course can be taken individually or with others and vastly expands the capacity of this message to touch people from across the globe. Stay tuned!
Join the Pachamama Alliance Drawdown Initiative
If you are interested in getting involved in the Drawdown Initiative, there are many ways to play. You can take the online webinar, or get trained to deliver the workshops to your community.