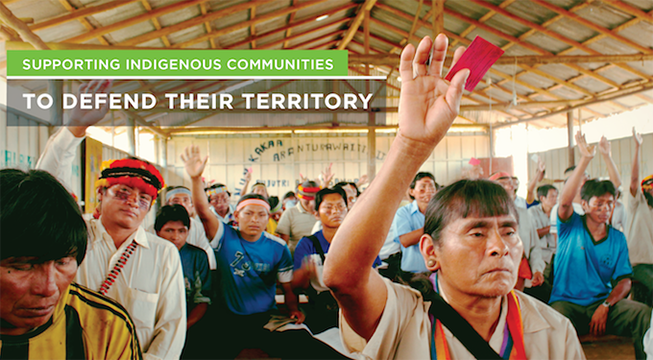 Dear Pachamama Alliance supporters,
As we enter 2017, much of our work in the Amazon rainforest will be focused on Pachamama Alliance's new initiative—permanent protection of the Sacred Headwaters region of Ecuador and Peru, where we have been working for over 20 years.
The defining goals of the Sacred Headwaters Project are that the area be placed in permanent protected status with all industrial-level extractive activities banned and with indigenous people playing the central roles in governing the region.
Donate to support the Sacred Headwaters Project.
A key intent of our historical work in this area, in addition to supporting the indigenous people to hold oil development and other extractive activities at bay, has been to support them in building the personal skills and organizational structures needed to be able manage and govern their own territories.
And so we have invested heavily in projects that build that capability: legal trainings about indigenous rights and how to assert them in local, national, and international courts of law; mapping and land titling of their territories; local healthcare initiatives such as the Jungle Mamas program that trains and helps organize women to take active roles in community governance; and sustainable economic activities such as community owned ecotourism projects.
The success of all of these activities has been critical in fostering an environment where the indigenous communities can now imagine themselves as the key architects of their future, rather than that future being in the hands of outside interests focused on exploitation instead of preservation of their lands.
In the initial phases of the Sacred Headwaters Project, Pachamama Alliance will be focusing on building a coalition of key stakeholders (indigenous groups, local governments, international NGOs) and aligning on a common vision for the project. Equally important, we will also be focusing on initiatives that build the capacity of the indigenous people to manage this area. Two initiatives that will get special attention are ecotourism and regional indigenous governance.
Support these two initiatives with a donation to Pachamama Alliance.
There are currently five community ecotourism projects in the territory. They represent the building blocks for a business infrastructure that, as part of an internationally recognized protected area, could be expanded dramatically and become an economic driver in the region. Our focus this coming year will be to enhance the economic success of all five of these projects with particular attention given to Kapawi Ecolodge as the central hub of this network. We will invest in improving marketing strategies and guest services and experiences.
CONFENIAE—the regional governing organization representing all of Ecuador's Amazonian indigenous people—has a critical role to play in the success of the Sacred Headwaters Pproject. Over the past few years it has been weakened by internal conflicts and government interference and is just now being reunited and poised to play a real leadership role in the region. Our focus will be to insure that it has the financial, legal and technical resources and the independence to be an active and powerful voice in shaping the future for Ecuador's Amazonian people.
Between now and December 31, we are raising $100,000 to kick- start the initial phase of this project. Please consider making a year-end donation to Pachamama Alliance today to support this vital work to permanently protect the Sacred Headwaters of the Amazon.
In partnership,
Bill Twist
Pachamama Alliance CEO