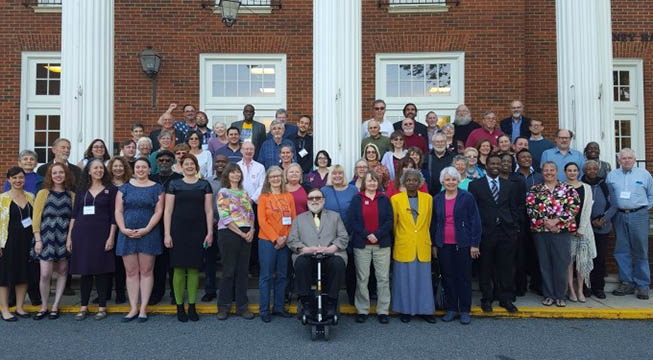 Leadership summit attendees gathering for a photo after a day of training and networking.

Move to Amend Ten Year Strategic Plan: A Game Changer
In early May, dozens of grassroots leaders from across the country gathered near Washington DC as the Move to Amend coalition unveiled its ten year strategic plan to amend the U.S. Constitution. These dedicated and talented volunteers work in their communities all across the country (and the political spectrum) to advance the We The People Amendment, which declares an end to the Supreme Court created doctrines of corporate constitutional rights and money as political speech. They also work to build power, to build relationships, and weave the fabric of a broad movement with the strength and momentum to effectively resist corporate rule and realize the promise of a vibrant and inclusive democracy.
The Move to Amend ten year strategic plan is a game changer—and just in time. We are in a unique moment as we face political, legal, and economic crises as well as great opportunity for change. Move to Amend builds for power, and we partner with groups working on many fronts of struggle to create a just, sustainable, and democratic society. Together we can change the narrative, change the dream, and end corporate rule.
Learn More About Move to Amend
2016 Leadership Summit
In DC, grassroots leaders attended and led trainings on artful activism, social media, volunteer recruitment, lobbying, passing resolutions and ballot initiatives, database management, Theater Of The Oppressed, and public speaking, among other things.
Move to Amend welcomed movement leaders Ambar Pinpo from United We Dream, Jacqueline Patterson from Climate Justice Alliance, and Elsa Lakew from Black Lives Matter DMV for a panel discussion about corporate rule and how it impacts women, communities of color, immigrants, and other marginalized groups. Summit attendees also participated in a People's Movement Assembly, a participatory process where we made plans for collective strategy and goals in our work for liberation and justice.
The weekend culminated in the first ever Move to Amend Lobby Day where over fifty organizers descended on Capitol Hill to lobby our representatives to support HJR48, the We The People Amendment. This group of volunteers, most of whom had never lobbied before, left DC feeling empowered, excited, and energized to fulfill the ten year plan to amend the Constitution.
Move to Amend secured three new co-sponsors for the amendment, bringing the total to seventeen, and within reach of our 2016 goal of twenty co-sponsors! Not only did Move to Amend grassroots leaders lobby, learn, and train on important organizing skills, but, maybe more importantly, they connected with each other, shared ideas, shared meals, and empowered each other in the confidence that we in fact can make lasting, radical change to bring power back to We The People!
Pachamama Alliance and Move to Amend: Building Together to Change the Dream
Move to Amend was excited to welcome several movement partners to the inaugural leadership summit, including our friends at the Pachamama Alliance. U.S. Community Development Specialist, Jason Bayless, and Co-founder, Bill Twist both traveled all the way from California as members of San Francisco Move to Amend and as representatives of the Pachamama Alliance. Jason hosted a networking lunch at the summit with Move to Amend volunteers who are interested in connecting with Pachamama Alliance Communities in their areas. Everyone was excited at the idea of connecting!
Move to Amend and the Pachamama Alliance work in coalition to change the narrative that keeps us disempowered, divided, and disillusioned. Together we reject this disillusionment. We work together to resist the stories we're told, and to change systems that are prioritizing profit over people and planet. We are so excited that our friends at the Pachamama Alliance could join us for this historic moment in the democracy movement!