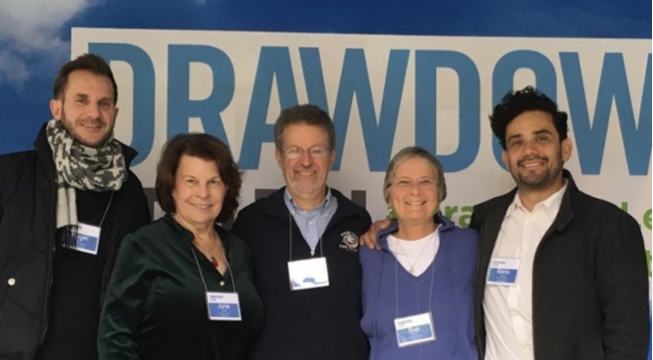 In October 2019, the Omega Center for Sustainable Living hosted their second annual Drawdown Learn Conference in Rhinebeck, New York, bringing together student activists, indigenous activists, policy makers, Project Drawdown staff, and more to "chart a path forward for solutions-based climate change education and action in schools and communities." Many members of the Pachamama Alliance community were in attendance inspired by their experiences with the Pachamama Alliance Drawdown Initiative.
Speakers included Katharine Wilkinson and John Foley from Project Drawdown, and Sherri Mitchell, author of Sacred Instructions, among others. Videos of many of the talks and panels are available until October 16, 2020.
For Sue Staropoli of the Rochester Area Pachamama Community who is active with the Drawdown Initiative, "It was a real joy to hear in the first few keynote sessions an underlying message that we must pay attention to and share our hearts in order to do this Drawdown work, and that listening is the cornerstone of how we relate to others. These themes affirmed and reinforced our vision and approach."
Sue teamed up with June Hament and Marty Levin of the Delaware River Valley Community and Pachamama Alliance staff members Rogér Knoren and Mario Trigueros to host a popular workshop during the conference. The team created the workshop, titled Building Transformational Drawdown Communities: Deepening our Capacity for Meaningful Action, based on their experiences with the transformational workshops of the Pachamama Alliance Drawdown Initiative and building Pachamama Alliance Communities.
Through videos, discussion, and interactive exercises, the workshop invited participants to see the work to reverse global warming not just as an environmental project, but also as an opportunity to build a future that is spiritually fulfilling and socially just.
For Rogér, it was "validating to see people and justice so central to the understanding of reversing global warming at Drawdown Learn. The workshop that we planned fit right in. The opportunity of this moment is that while we engage in projects that reverse global warming we also tackle the deep sense of separation and exploitation that got us here in the first place, which will require transforming ourselves—both as individuals and how we relate to each other and to the planet."
And that message was found throughout the conference.
Reflecting on the experience as a whole, Sue said "I return from this experience with a full heart 1) affirmed in our commitment to do the inner heart work, with the support of community, that allows us to be authentic in all we're doing and 2) very much challenged to integrate the social justice perspective more into every one of our Drawdown programs."
---
The Pachamama Alliance Drawdown Initiative is a series of workshops that support people in finding their unique contribution to reversing global warming. You can begin with the Reversing Global Warming: Introduction to Drawdown online course, and can bring the workshop to your community.