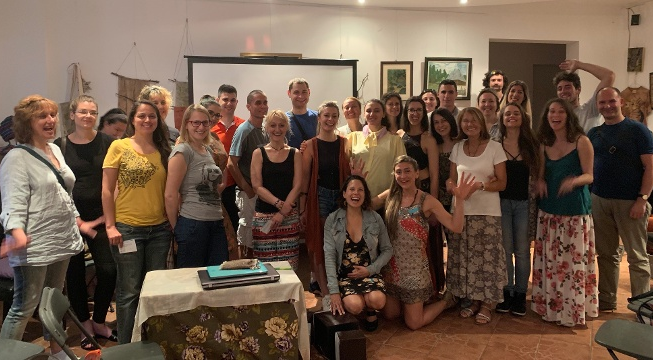 Awakening the Dreamer Symposium at Jezgro Social Center
Serbia—a country with a long history of conflict and war that only stopped as recently as the early 2000s—now has the presence of a Pachamama Alliance Community whose objective is to "create and inspire communities in our country to work together to change the dream of the modern world and remind people what it means to truly be human. To educate and work with young people, inviting them to get involved in organized activities in service of the world and all its species. We do all this with love and a lot of understanding because it is the only way to break the borders between us and create the unity we need more than ever."
During a visit to the
Pachamama Serbia Local Community
in June, the San Francisco and Serbia teams organized and presented the Awakening the Dreamer Symposium to an enthusiastic group representing several different organizations and businesses—including Permaculture Serbia, the Jezgro Social Center, and Eco Village Vrmdža—and paved the way for upcoming events in both countries: Serbia and Montenegro.
The Symposium in Belgrade
During and after the event, participants expressed a commitment to joining Pachamama Serbia to further the vision of Pachamama Alliance as a way to address the crises facing Serbia today. Participants expressed a shared concern and need to protect the natural world—particularly the rivers that are under threat due to plans to build hydro power plants across the country. Other areas of work identified were waste and chemical management, as well as air and industrial pollution.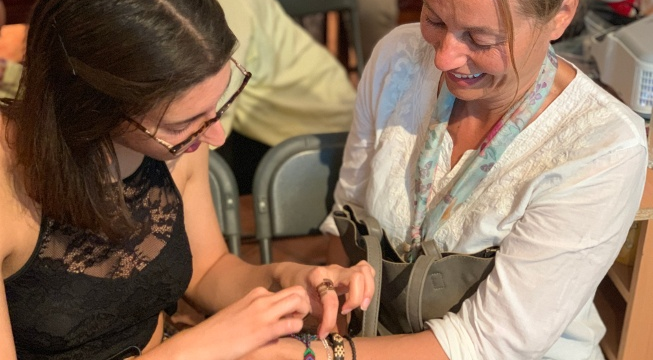 Key moment of the Symposium: participants tie commitment bracelets to keep themselves inspired.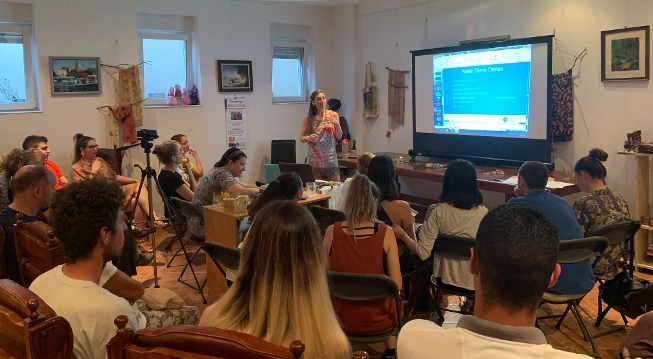 Lidija Mitrojevic, Community Coordinator, presents the Symposium for the first time in Belgrade
Upcoming Events in Serbia
From July 26th – 28th, Pachamama Serbia will host an Awakening the Dreamer Symposium in combination with somatic activities, dance, and movement at a beautiful eco village just outside of Belgrade. Following this event, Pachamama Serbia will host a Facilitator Training for participants from the July events and anyone interested in further expanding the vision of a world that works for all through facilitating Symposiums and reconnecting with the land.
Symposium Materials Available in Serbian
During this visit, the team also completed the translation of Awakening the Dreamer into Serbian, which can be accessed by registered members of the Global Commons, Pachamama Alliance's online community.
Symposiums in Montenegro
The San Francisco and Serbia teams were also invited to the 8th edition of the annual Green Culture Festival where they presented Awakening the Dreamer for the first time in Montenegro. The Festival promotes awareness about environmental challenges from a holistic approach by "integrating green business, green science and green mindset".
Awakening the Dreamer Symposium in Montenegro with artists and teachers from across Europe
We were joined by artists and teachers from Italy, the Netherlands, Serbia, and Montenegro who also hosted activities geared toward young people and centered on creating a new, aware, and conscious presence on the planet. The next Pachamama Alliance event in Montenegro is set to happen in September during the Green Culture Conference 2019!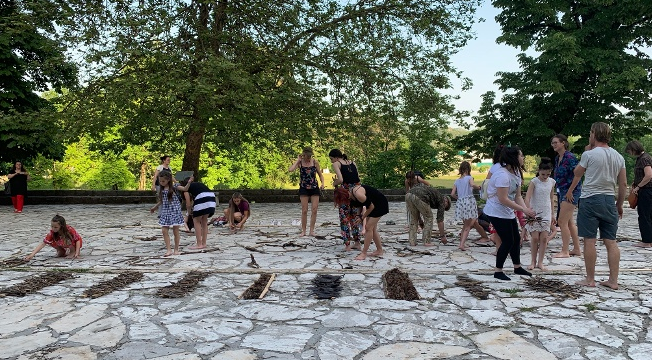 Outdoors, artist-lead activity for elementary school children in Montenegro
Together with the Festival and Conference organizers, we hold a vision of bringing Awakening the Dreamer to all schools in Montenegro!