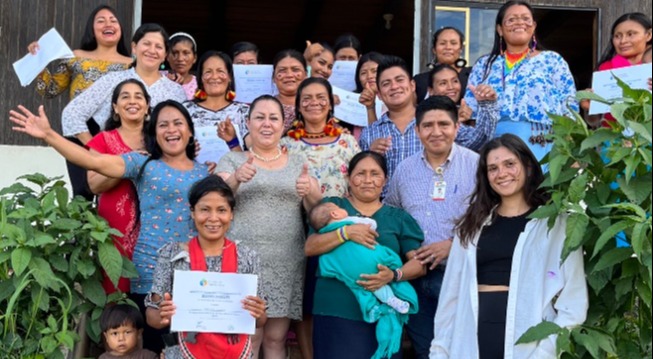 Ikiama Nukuri— "Women as guardians of the forest" in Achuar—is an intercultural health program that weaves indigenous birthing traditions and western midwifery.
Ecuador's Achuar and Shuar population resides in some of the most remote and hard-to-access regions in the country, with limited access to healthcare for mothers and infants. To address the significant maternal and infant health inequities facing the indigenous Amazon nations, Ikiama Nukuri hosts workshops to train indigenous women as community health workers (CHWs).They learn to conduct prenatal visits, attend births, provide postpartum care, and—when necessary—act as a connection to the public healthcare system.
Offering Midwifery Trainings to Achuar Women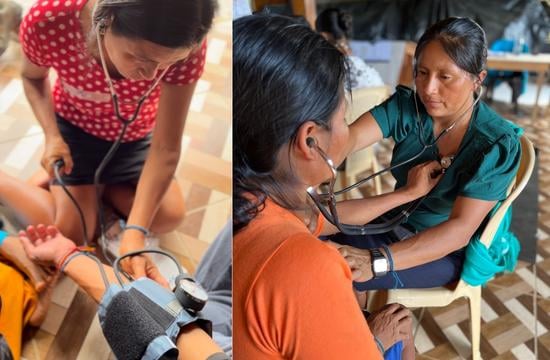 Thanks to the contributions made by donors this past Mother's Day, Ikiama Nukuri went to Taisha— a city in the province of Morona Santiago. From May 23rd to June 1st, the workshop trained 14 of Achuar CHWs on maternal, infant and reproductive health.
Following practical exercises by our professional facilitators, the workshop was successful in consolidating and expanding the knowledge of the CHWs in the following topics:
Identifying risks of pregnancy and birth

Measuring vital signs

Brewing ancestral medicine for treating hemorrhage during labor

Taking the proper steps towards a birth

Examining the placenta

Newborn examination and resuscitation
Addressing Intrafamilial Violence
Achuar and Shuar communities are historically patriarchal hierarchies, and as a result, it is not uncommon for women and children to experience violence at home. As a response, the workshop offered the CHWs a safe space for discussing sensitive topics such as intrafamilial violence. Through this space, women shared experiences, healed past stories, and held each other as family.
This process equipped our CHWs with empathy and understanding, which is essential to become a professional midwife. Ikiama Nukuri deeply believes that our CHWs make change by being the change. They are setting an example by being the example.
New Supplies for Midwife Care
Not only was Ikiama Nukuri able to fund the workshop with the help of donors, but the program also had the opportunity to purchase and distribute brand new backpacks full of essential supplies for the CHWs to provide professional midwife care in their communities.
The backpacks included:

Rain jackets

Stethoscopes

Thermometers

Blood pressure monitors

Pregnancy calculator wheel

Fetoscope

M

easuring tape

Plastic folder

Pen and notebook
Providing new materials legitimizes the role a CHW holds within her community. Being well prepared boosts their empowerment and motivation. This resonates with the confidence they have every day to facilitate a woman's labor and the welcoming of a child to the world.
Meet Isabel Wisum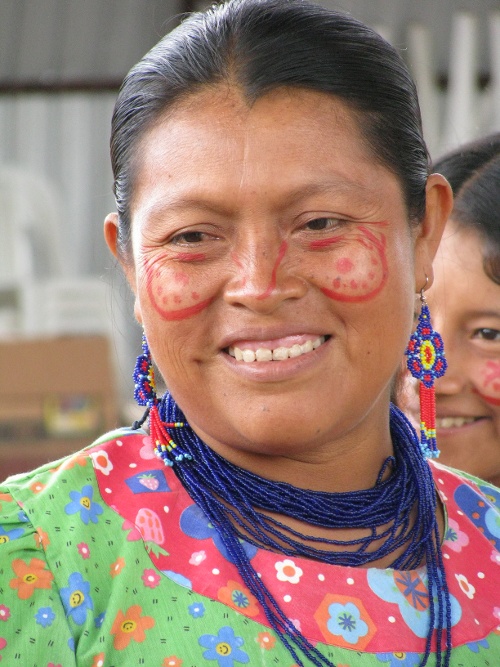 Since 2013, the Ikiama Nukuri CHWs have assisted approximately 3,500 births of women aged 11 to 56 years. Specifically, Isabel Wisum has been working as a CHW since 2008. For the past 14 years, Isabel has served over 300 births in between the communities of Pumpuentsa (where she lives), Artuam and Kurintsa, all located in Achuar territory.
For Isabel to reach the Artuam and Kurintsa communities, she has to walk an average of 2 hours each way. As a result, Isabel has walked an approximate of 800 hours in the past 14 years. This has never discouraged Isabel from her responsibilities as a CHW.
"I love working with Ikiama Nukuri next to other women because I think it's a great opportunity for us to take care of each other and protect our traditions and language. Ikiama Nukuri respects ancestral medicine and indigenous birthing traditions. To the younger women of my community, I always tell them that we can not allow for our roots to be forgotten."
In addition to these very practical health services and benefits, women are speaking up and they are being elected to positions of local community governments—a phenomenon that was unheard of just seven years ago. The Achuar culture is one in which women were not allowed to hold leadership roles, or even speak in public forums when outsiders were present.
Against tradition, Isabel became the first Achuar woman elected as vice president of the NAE (Achuar Nationality of Ecuador). She started her journey as a volunteer and worked her way up to vice president, holding the position for 3 years. With the success of Ikiama Nukuri CHWs in preventing maternal and infant death, women's greater stature in decision-making and economics has emerged at the community level.
What's Next?
Currently, the program has 88 CHWs working in the Achuar and Shuar territories of the Amazon rainforest. Specifically, our trained Achuar CHWs serve 100% of Achuar associations, a territory of about 5,000 people. Whereas our trained Shuar CHWs serve 50% of Shuar associations, a territory of about 8,000 people. In 2023, we aim to expand our reach by serving 100% of Shuar associations to provide women of the whole region with aid from our CHWs.
Our mission as Ikiama Nukuri is also to increase the number of workshops to give our 88 CHWs a continuous education on indigenous birthing traditions and western midwifery. We believe that recurring workshops maintain their abilities and will empower them to have an essential role in their male-dominated communities.
Any contribution, big or small, makes a difference! If you want to be part of our community, you can support us with a donation.