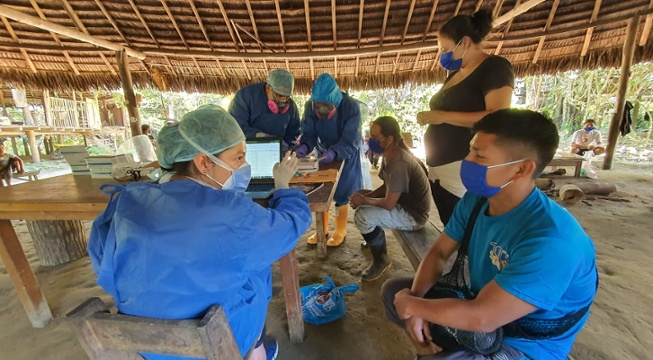 COVID-19 testing is carried out in Indigenous territories. Photo courtesy of @Traya Muskuy.

The work of the Amazon Sacred Headwaters Initiative continues, however it has been altered in several ways by the COVID-19 crisis. Outside travel has been curtailed into Indigenous territories. Travel and gatherings within and among the Indigenous communities has also been reduced dramatically.
Creating a Bioregional Plan
The primary work that is being done now is being carried out by allies and experts outside Indigenous territories and is focused on developing and completing the bioregional plan for the Sacred Headwaters regions of Ecuador and Peru.

A team of international experts in economics, regional planning, and Indigenous rights and cultures is currently working on the creation of a masterplan for the entire region of the Sacred Headwaters Initiative. The goal is to have the Plan ready to be presented to the public and the governments of Ecuador and Peru in the fourth quarter of this year. The Plan will lay out a pathway to the protection and sustainable development of the region and to a governance system based in Indigenous principles of solidarity and community well being. The Plan is being built upon the foundation of the "Life Plans" that the various Indigenous nationalities have developed over the past several years. This bioregional plan is intended also to be an example that can inspire "just transition" plans nationally within Ecuador and Peru as well as internationally. As an example of the breadth of the issues to be included in the Plan, the following are areas where policy papers are being developed:
Ecosystem protection, restoration and regeneration
Transportation, communication, energy infrastructure
Food diversification and sovereignty
Intercultural health
Education (intercultural and environmental)
New metrics of community well-being
New urban planning and smart cities in the Amazon
Sustainable production systems in the Amazon
Defense strategies and indigenous territorial governance.
Alternative means of exchange
COVID-19 Relief
Part of the budget for the Sacred Headwaters Initiative is also being used for direct support for COVID-19 relief and preparedness in Indigenous communities. The team at Fundación Pachamama has been working to provide testing, and there have been at least 22 cases in Achuar territory. The team has also met with the President of the Achuar Nation to discuss co-creating an emergency action plan for addressing COVID-19 in their territory. Some people continue to be quarantined outside of their communities and the Fundación Pachamama team has been assisting with personal protection and food kits for them.