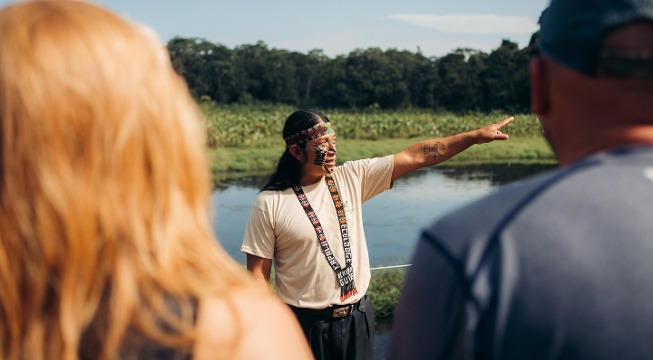 Achuar guide Simon Santi with guests at Kapawi Ecolodge. Photo courtesy of Jake Mathews.

Economic Challenges in the Amazon
Globally, the COVID-19 pandemic has affected activities everywhere. It is especially impacting the territories of Indigenous communities in the Amazon rainforest that have developed successful ecotourism activities in their territories. With COVID, tourism has vanished while the costs of education and basic food supplies remain, and the needs for medicines and health supplies have increased.
To meet the needs for funding, Indigenous communities in Ecuador, and in the Achuar territory specifically, are for the first time looking at timber harvesting and selling Balsa trees from their territories. Balsa is a wood with great strength despite its softness and low weight and is a species of high commercial demand. Despite the potential negative impact on conservation and eventual return of tourism in the region, the Indigenous communities are being forced down this path by the lack of alternatives.
Creating Alternative Revenue
Faced with this threat, Pachamama Alliance and Fundación Pachamama are working with Achuar communities and their leadership to find and develop alternatives that create revenue streams while providing incentives to conserve nature and strengthen community knowledge.

Joining with this effort are local governments, universities and other NGOs. Promising projects are being developed around a highly appreciated local variety of vanilla as well as hot pepper production. Several communities are tapping into traditional forest knowledge for bioenterprise research for cosmetics and nutraceutical applications. We are also striving to increase the variety of local agricultural production to achieve greater food security and to develop export crops. Fish farming is an area of great promise.
On a broader scale, we are working with technology partners to develop community currency exchange systems to lessen the dependence of local enterprise on imported foreign exchange and traditional monetary systems.
We are also working with conservation partners in Scandinavian countries to create a conservation trust for this region where the income from the trust can fund activities that are designed to provide incentives for local community actions that protect the Balsa forests.
We expect that all of this work to address the Balsa harvesting threat in Achuar territory and what is learned as the solutions are tried and perfected, will be applicable and replicable throughout the greater Sacred Headwaters region. We'll keep you posted.