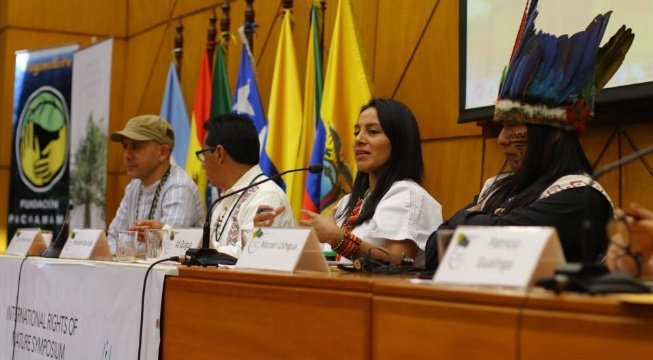 A panel discussion at the symposium including Pachamama Alliance indigenous partner, Manari Ushigua. Photo by The Global Alliance for the Rights of Nature.
Rights of Nature recognize the Earth and all its ecosystems as a living being with inalienable rights: to exist, to live free of cruel treatment, to maintain vital processes necessary for the harmonious balance that supports all life. Such laws also recognize the authority of people, communities, and governments to defend those rights.
In 2008, Ecuador became the first country in the world to recognize and implement Rights of Nature into its national constitution. To commemorate and celebrate the 10th anniversary of that historic event, an international symposium took place in Ecuador this past September 27th & 28th.
The event, which was hosted at the Universidad Andina in Quito, was organized by the Global Alliance for the Rights of Nature—an organization that Pachamama Alliance was a key player in founding in 2010. The event was attended by nearly 300 lawyers and activists from around the world including from other countries that already have or are in the process of including Rights for Nature in their legal systems—New Zealand, India, Nepal, Colombia, Mexico, Sweden, Brazil, Argentina, Bolivia and various jurisdictions within the United States.
Indigenous peoples from Ecuador played a prominent role in the event. Rights of Nature is consistent with traditional indigenous understanding of nature as a living being and is recognized by indigenous people as a potentially powerful tool to protect their lands and cultures from the threats of industrial-level extractivism and deforestation.
Two days of presentations and panel discussions inspired attendees with the remarkable strides being made around the world to bring about the adoption of this new form of legal jurisprudence. The accomplishments and stories of success that were shared left attendees with the feeling that Rights of Nature truly is "an idea whose time has come."