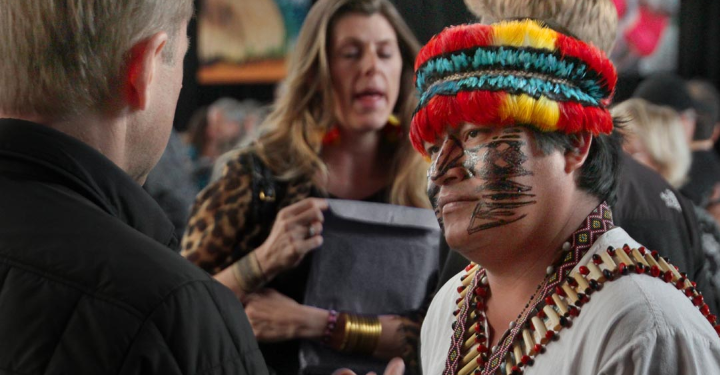 Jaime Vargas, an established leader of the indigenous Achuar people and partner with Pachamama Alliance, was unanimously elected chair of the Confederation of Indigenous Nationalities of Ecuador (CONAIE) during the organization's 6th Congress, held in September. His election marks the first time in history that the Achuar have led the both CONAIE and CONFENIAE (The Confederation of Indigenous Nationalities of the Ecuadorian Amazon).
Mr. Vargas, 36, brings to the position a lifetime of experience in advocating for the indigenous people of Ecuador. His father, Ilario Vargas, was instrumental in the establishment of the Achuar Federation, a precursor of Nacionalidad Ecuador de Ecuador (NAE), and his work set an early example for Jaime. As a young man, Mr. Vargas' first elected position was as a syndico in Copataza, working as an effective community organizer. He has been an active and highly recognized leader since 2009 within the Pachakutic Plurinational Unity Movement, the national indigenous political party in Ecuador. From 2010-2012, Jaime worked as a community coordinator in Macas for NAE, and in 2012 he was elected president of NAE, a position he served until 2015. Since then, Mr. Vargas has worked as an authority for the local government of Taisha, overseeing the budget for the implementation of projects that benefit indigenous communities.
Mr. Vargas's advocacy on behalf of indigenous people has often put him at odds with the Ecuadorian government. The previous administration of Rafael Correa filed four legal actions against him, though with a new administration now in power these are likely to all be dismissed. In spite of threats he has received and the legal challenges he faces, he continues to fight for the rights of all Indigenous people, and as only the 2nd president of CONAIE hailing from the Amazon, he brings a vital set of skills and experiences to bear on his position.
Mr. Vargas will chair CONAIE until 2020. He promised that dialogue with the government over indigenous protections from extractive industry and other threats to their territory will continue, but with a greater degree of strictness.