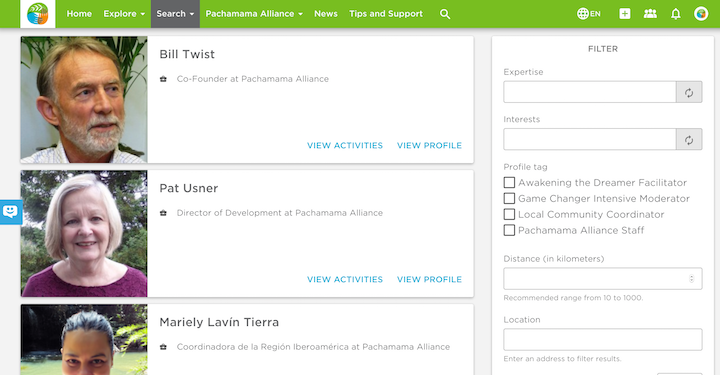 An Ecosystem of Collaboration
At Pachamama Alliance, we believe that in order to address the complexity of the issues humanity faces, it will take millions of awake, engaged people working skillfully together in an ecosystem of collaboration.
To serve this need, Pachamama Alliance is currently developing an online tool designed to build that ecosystem, connecting individuals and communities across the world so that they can work together to find solutions to those issues.
Pachamama Alliance CEO Bill Twist spoke about the vision for this tool during the 20th Anniversary celebration last year. The online community platform will help harness the wisdom and power of the Pachamama Alliance network and will integrate all of the people and programs of Pachamama Alliance to foster new levels of connection, collaboration, and inspiration.
Developing the Software
To build the online community platform, Pachamama Alliance has been partnering with GoalGorilla, a development firm that built an online community platform for Greenpeace and is creating a new social network platform called Open Social. Over the past year, we have collaborated with GoalGorilla to create customized features important for the global Pachamama Alliance community, such as the ability to search for people, groups, and events by location, as well as multi-language capabilities.
Soon, you'll be able to create an account and search for people you know—and people you'll want to know—by name, location, and interests. You will be able to engage in conversations about topics relating to the Up to Us engagement pathway, to Pachamama Journeys, and to opportunities you see to change the dream of the modern world.
Currently, a small group of testers are trying out the online community while it's in development. Keep an eye out for an invitation to join once the community is officially launched.