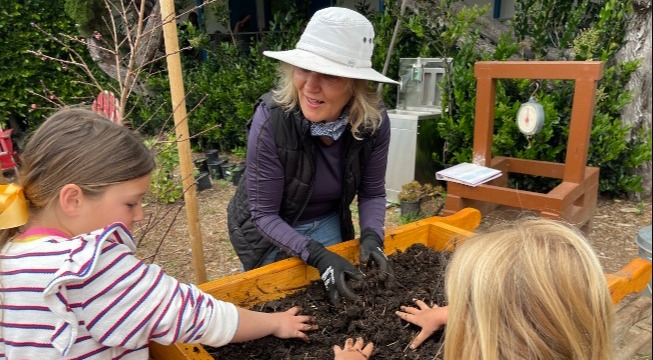 Cecilie Stuart, founder of Full Circle Compost, sifting through soil with students.
Pachamama Alliance community leader and Action Training graduate Cecilie Stuart is transforming the way communities throughout Southern California are addressing food waste through her nonprofit, Full Circle Compost.
Full Circle Compost focuses on reversing global warming by diverting food waste from landfills and drawing down carbon emissions through community composting and soil regeneration. According to Cecilie, landfills are the third largest emitter of methane gas in California, making addressing waste a top priority.
Full Circle Compost has several main areas of focus, including encouraging zero waste efforts through education, engaging youth through hands-on outdoor classroom programs, and providing education and training on composting. It also offers affordable compost bins made from reclaimed wood and on-site composing services to make composing accessible for all.
Through these efforts, Cecilie and the Full Circle Compost Team have successfully supported their community in diverting nearly 35 tons of food waste from landfills over a period of five years and producing 20 tons of nutrient-rich soil.
Addressing Global Warming through Community-Based Action
After taking the Awakening the Dreamer course and learning about Project Drawdown's work, Cecilie was inspired to start a nonprofit to engage her local community in soil health, regenerative practices, and shifting food systems. She realized this vision by starting Full Circle Compost, through which she and her team successfully built a community compost program at three schools and in the town center.
But Cecilie and her team eventually started experiencing burnout and financial instability as they were taking on more than they could manage. To figure out next steps, Cecilie took the pilot of the Game Changer Action Training. Through the Training, she learned how to build a financial model that could sustain Full Circle Compost's work and how to focus her team's efforts on where they had the most impact—in educational settings. Soon after, they got their first contract with a public school to implement a program to divert lunchtime food waste from landfills and teach students how to compost.
Since then, Full Circle Compost has grown and expanded its reach, becoming a key resource for the community.
"People in our community now come to us to learn about regenerative systems, install composting projects, and have hired us as sustainability consultants for large organizations like Boys and Girls Clubs," Ceclilie says.
Full Circle Compost's Impact Today
Full Circle Compost's work has reached communities and schools in Santa Monica, Malibu, Topanga, Calabasas, and Thousand Oaks. It now manages nine community and school composting sites, and has built and installed over 50 compost bins throughout the Santa Monica Mountains.
Most recently, the Full Circle Compost team provided training and renovated a large composting system for Theatricum Botanicum, a local venerable theater in Topanga. Theatricum Botanicum annually hosts 30,000 patrons and grade school students from the wider Los Angeles area. Full Circle Compost anticipates that over the next year, thousands of people will be composting the meals they eat at the theater.
Cecilie's impact in the community extends beyond her work at Full Circle Compost. She also represents sustainability on her local town council and chamber of commerce.