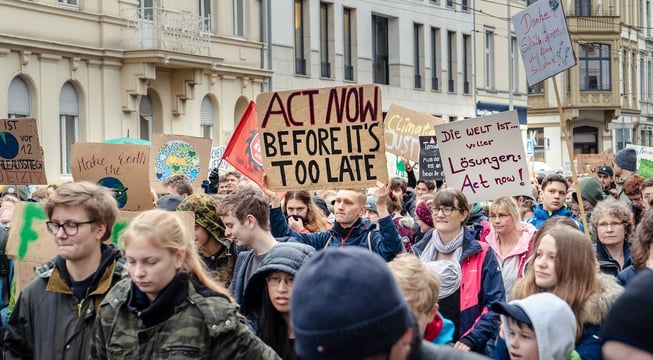 Image courtesy of Mika Baumeister.
The following conversation was part of the Resilience and Possibility series. To access the recording, please scroll to the bottom of this post.
---
On September 21, the global Pachamama Alliance community came together for a conversation on the connection between global issues and local action, including how to shift one's orientation to the climate crisis from paralysis to taking impactful action.
For the first half of the call, participants watched and reflected upon a video of Christiana Figueres in conversation with Roshi Joan Halifax and Rebecca Solnit about the critical importance of "story" in confronting the overwhelming challenges of the climate crisis. Christiana discusses the ways in which the current story around climate change is no longer true, and how shifting the narrative to one of possibility can actually be a catalyst for change.
Later in the call, Will Grant—who co-leads Pachamama Alliance's Action Trainings—spoke about the importance of taking action at the local level to address the climate crisis. Will was clear that local action not only makes a difference for one's community, but is a crucial piece of bringing about the necessary changes on a global scale.
The Importance of Shifting the Story Around Climate Change
In her conversation with Roshi Joan Halifax and Rebecca Solnit, Christiana Figueres discusses the need to shift the narrative around climate change. She explains how for a long time, people have told themselves that addressing the climate crisis is too complex and too expensive, that it's too late and unrealistic because people won't make the necessary changes. This narrative has led to a sense of paralysis, where people believe taking action is impossible.
Christiana challenges these beliefs by pointing out that we already have the necessary technologies to reduce emissions now, and many of these technologies are commercially viable and cost-effective. She goes on to underscore the fact that many people around the world are wanting to make a difference and are already doing so, highlighting how important it is to accelerate these efforts by spreading a story of possibility around the climate crisis.
Though Christiana is clear that humanity must give it our all to create a better future for future generations, she makes an important distinction between possibility and a guarantee of success. She explains that guaranteeing success comes from this false sense that we can control everything. She goes on to say that while we can't control the outcome of the climate crisis, we do have the opportunity to shape the quality of life for future generations through our actions today.
"Our responsibility is paramount, and it's not a responsibility to do any guaranteeing, but it is a responsibility to turn the direction of where we're going toward one of more stability, more health, more biodiversity, more justice, and just a more stable planet."
Taking Local Action to Address Global Issues
Later in the call, Will Grant spoke about the significance of local climate action and the crucial role it plays in addressing the global climate crisis.
Will explained how action at the local level is so important because global climate solutions eventually translate into specific, local actions such as protecting nearby forests or adopting renewable energy in one's workplace. As he put it, whether it's national laws or global policies, climate solutions at all levels create opportunities for action on the ground.
Will not only underscored the vital role of local action, but also highlighted how accessible taking climate action is when done at the local level.
To illustrate this point, Will outlined four levels of action: individual actions, influencing friends and family, working with institutions and communities, and policy and legal changes. Will acknowledged that while policy change can be powerful, it often takes time and can be complex. He encouraged people to take action at the local level, where individuals have more direct influence. As he put it, "At the local level, you're not a number, you're not one of a million people signing a petition or trying to get a meeting with a legislator at the city level."
Will went on to underscore the interconnectedness of communities, explaining that taking action at the local level means leveraging the relationships one already has within their community or town and connecting with local leaders through those relationships. He also emphasized that one doesn't have to start their own project—joining existing organizations can be a powerful way to contribute. He encouraged everyone to find local organizations that focus on issues they're curious or passionate about and learn to be an effective activist by getting involved in their work.