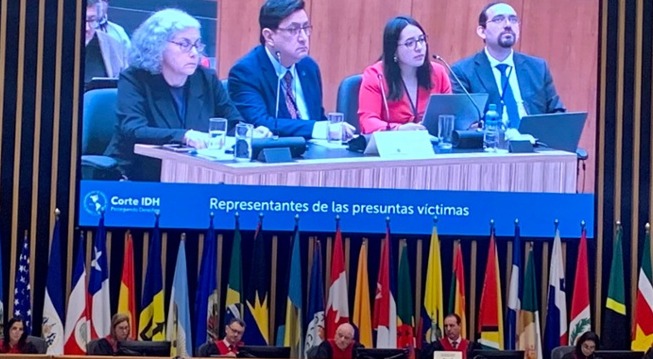 On August 23, 2022 in the city of Brasilia, the Inter-American Court of Human Rights, the highest legal authority regarding human rights in the Americas, heard a case involving the Tagaeri-Taromenane Indigenous Peoples vs. Ecuador. This is one of the most important cases in Inter-American judicial history. It is the first where an international tribunal is addressing the complex issues of Indigenous peoples living in voluntary isolation.
It is estimated that there are approximately 200 isolated Indigenous groups living in South America. All of them are in situations of extreme vulnerability and are constantly under pressure from mining, logging, roads, and direct violence. These peoples' homes are in the most mega-diverse forests on Earth, whose protection is critical in the context of the global climate crisis, and for justice.
The Tagaeri-Taromenane are Indigenous people living in isolation from the outside world. They live in the Yasuni territory in Ecuador, one of the most biodiverse regions of the planet. Their case arose in 2006 from a complaint filed on their behalf by the legal team of Fundación Pachamama—our sister organization in Ecuador—after a massacre occurred on Tagaeri-Taromenane lands in which 30 of their people were killed.
The Ecuadorian Constitution grants "intangible" status to the territories of Indigenous peoples living in isolation. This is supposed to keep extractive activities, like oil drilling, mining, and logging out of those territories, but often is not the case. The claim in this case is that the Ecuadorian government prioritized the interests of oil development over the interests of the Tagaeri-Taromenane peoples in violation of their Constitutional rights, and that the presence of oil activities contributed to generating conditions of violence and risk for the Indigenous peoples.
After 16 years of back-and-forth litigation, the case finally was referred to the Inter-American Court in Brasilia where the State of Ecuador is now being judged for the human rights violations suffered by the Tagaeri-Taromenane peoples. A decision should be announced by late October. That decision will set the public policy norms for the protection of isolated peoples throughout the Americas. We will keep you posted.