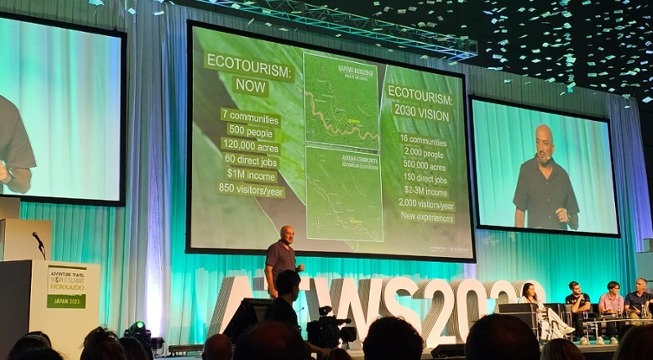 Juan Carlos Garcia, representing the Kapawi team, at the Adventure Travel World Summit in Sapporo, Japan. Photo by Jorge Perez.
In September, Kapawi Ecolodge won first place in the Adventure Innovation Challenge by the Reset Tourism Fund of the UnTours Foundation. The prize is a $5,000 cash grant and an opportunity to receive up to $50,000 as a low-interest loan.
The Reset Tourism Fund was created to identify high-impact entrepreneurs and businesses and provide them the financing they need to grow and flourish. The fund provides different types of investment, including low interest loans, revenue-based financing, and equity investments.

About Kapawi Ecolodge
Kapawi Ecolodge & Reserve is an award-winning ecolodge nestled deep within the Ecuadorian Amazon, owned and operated by Achuar Indigenous peoples as part of their vision for preserving their ancestral lands and way of life. It opened in 1996, and was developed as a sustainable local economic alternative for Indigenous communities located within areas of high biological and cultural diversity.
Since opening, Kapawi Ecolodge has been the main source of income in an area that covers more than 100,000 hectares and that includes more than 10 Indigenous communities of the lower Pastaza River Basin. Kapawi is community managed and owned, and over the years has welcomed thousands of visitors, and created connections with friends and supporters. Kapawi helped develop a whole region of collaborating Indigenous communities involved in travel. Kapawi is also part of a wider movement that focuses on protecting nature and Indigenous culture as one of the most important strategies for sustainable development.

Presentation to the Committee
There were close to 100 applicants, and Kapawi Ecolodge was selected among the 3 finalists. All 3 finalists were invited to the Adventure Travel World Summit, in Sapporo, Japan, September 11–15, 2023. During the summit, Juan Carlos Garcia, representing the Kapawi team, made a presentation and pitch to all the event participants (500 people), the 5 judges, and all members of the Adventure Travel and Trade Association (ATTA).

The presentation focused on how Kapawi is developing a community ecotourism cluster in the lower Pastaza River basin. Juan Carlos also presented on the new opportunities for travel at Kapawi and the region, especially in a post-COVID-19 scenario where travel is evolving. These new opportunities will focus more on cultural immersion, disconnection (disconnect to reconnect), time in nature (as nature is wellness), and soft family adventures.

Plans for Using the Prize
Over the years, Kapawi's area of influence has been expanding, currently including 7 neighboring communities and roughly 50,000 hectares. There are now 2 additional community ecotourism camps in the area in the communities of Wayusentsa and Sharamentsa. And, more communities want to join this ecotourism network, which presents a clear opportunity for Kapawi to continue growing. But to do this, there must be a common vision and plan.

The Kapawi team plans to use the prize funds to advance the 2030 Achuar tourism vision which includes expansion of offerings, jobs, and community involvement. They will also use the prize to fund a community gathering, the Achuar Ecotourism Summit, in late November of this year. The Summit will take place in one of the communities of the area, where 300-400 people will meet over 3–4 days to develop a common vision and plan for this ecotourism network.

With the prize also came the opportunity to apply for a loan up to $50,000, with 5% interest, that will be used by Kapawi to build a new family cabin, as well as to develop a new photovoltaic system for our future solar boats for tourism use.