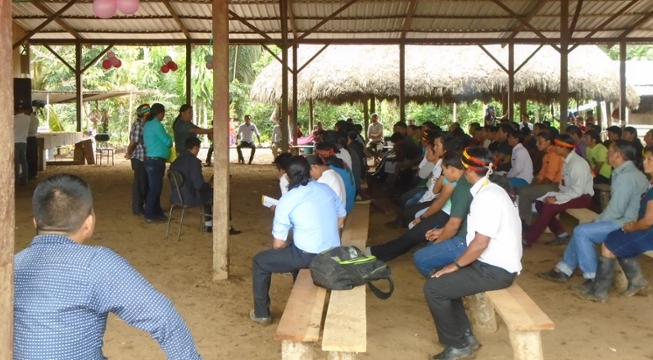 Achuar community members at the assembly
The Sixth Congress of the Achuar Nationality of Ecuador was held for four days in July in the community of Kapawi. The primary order of business was the election of a new leadership council. The new president, elected to serve a three-year term, is Tiyua Uyunkar, from the community of Wachirpas.
Also elected was Valeria Etzamaren, vice president and the second woman to serve on the Achuar leadership council. She follows Isabel Wisum's term as the first woman to serve on the council and fulfills the Achuar's commitment to now always include at least one woman within their Governing Council.
Valeria is a 26 year old mother from the Numbaimi community and is a tourism engineer with a university degree. Her mother was part of Pachamama Alliance's Ikiama Nukuri program as a Community Maternal Health Promoter.
The Achuar Nationality of Ecuador currently has 87 communities and 18 associations. In the Congress, 423 official delegates participated in the deliberations and the elections. It was among the largest turnouts for an Achuar Congress.
In addition to holding the election, the Congress is also a time for the Achuar to discuss and deliberate about issues facing their territory. Once again, the Congress of the NAE categorically rejects any attempt of oil or mining activity in the Achuar territory, promoted by the National Government of Ecuador. And they RESOLVED not to admit any expansion of the oil, mining and hydroelectric frontier in Achuar territory.
The following is a listing of the new Governing Council of NAE:

President: Napoleón Tiyua Uyunkar
Vice president: Valeria Etzamaren
Education Leader: Lucas Mashian
Health Leader: Mario Wisum
Communication Leader: Ernesto Senkuam
Macas Coordination: Cesar Kaasap
Territory Leader: Eduardo Tsamarain
This assembly was made possible in part by the generous donors of the Pachamama Alliance, who funded transportation, lodging, and food for the members of the delegation.