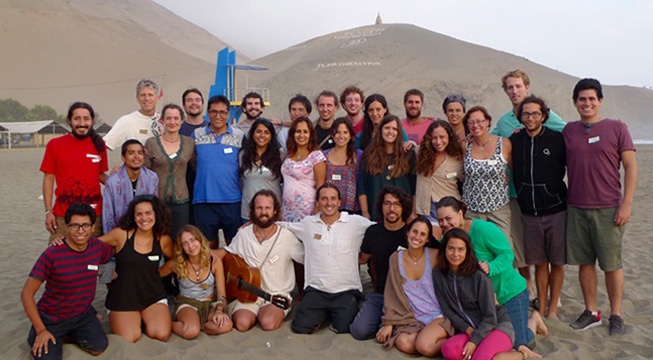 In partnership with Conservamos por Naturaleza, Pachamama Alliance arrived in Lima, Peru in April to offer the Awakening the Dreamer Symposium and a Symposium Facilitator Training to 28 representatives from 17 different game changing NGO's in Peru. As a result of these gatherings, a Pachamama Alliance Community Core Team was created to be in service of the vision that we all share; to bring forth a world that works for all.
One participant said about the events:
Over the weekend I realized that I am Life, that I am alive and that is the starting point for bringing anything to fruition. I also confirmed that we won't be able to move forward by acting alone and that only together can we do it all.
[metaslider id=47521]
A Partnership with Conservamos por Naturaleza
Conservamos por Naturaleza is an initiative of Peru's Environmental Law Association that supports volunteer-geared projects focused on preservation of natural eco-systems as well as projects that promote an environmentally sustainable human presence in the country. Their motto is to lead by example and to that end, some of the projects they support include reforestation, actions to minimize illegal mining, group beach and street clean-up days, sustainable living campaigns, etc. And their ability to effectively convene volunteers blew us away!
In their efforts to equip volunteers with the tools necessary to stay inspired and develop their leadership, Conservamos por Naturaleza and Pachamama Alliance convened 17 organizations, including:
Muyol Willka Hampi
Muyol Willka Hampi, based in the Sacred Valley of Cuzco, is dedicated to creating community leaders, keeping traditional medicine alive, and supporting projects aimed at creating healthy and harmonious communities in the world. It was special and very aligned with Pachamama Alliance's vision for the world to have traditional wisdom keepers in the group to offer an invitation to let ourselves be guided by the spirit of ancient wisdom.
Newfield Perú
The events were also joined by Newfield Perú , a long time ally of Pachamama Alliance and an ontological coaching school with centers all around Latin America. Their commitment is to create transformational leaders around the region, which makes them perfect collaborators.
The Council for Latin American Eco-Villages-CASA
The Council for Latin American Eco-Villages-CASA- joined and added a vision for sustainable and regenerative ways of being on the planet:
I am grateful for each hug, smile, conversation, piece of food, grain of sand, reflection, introspection, game, gaze, and each silent applause.
Next Steps for the Pachamama Alliance Community in Peru
The newly formed Pachamama Alliance Community Core Team in Peru is currently at work planning for their activities launch date in July when they will formally begin presenting Awakening the Dreamer Symposiums and widely bringing the message to new audiences.