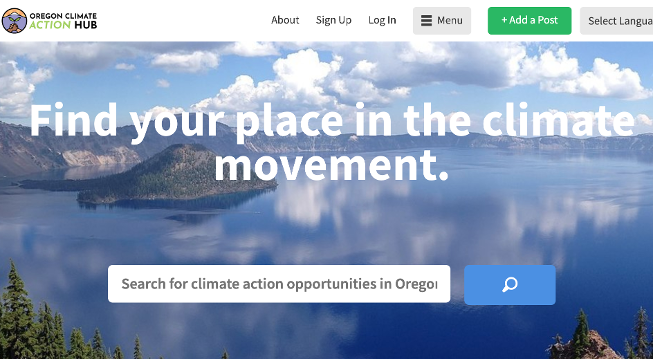 Pachamama Alliance is currently prototyping a learning and support system called the Game Changer Action Network—or the Network for short.
In its first phase, the Network has been prototyped with graduates of the Introduction to Community Climate Action Training (ICCAT) who are implementing climate justice projects in their local communities. It offers resources and opportunities for participants to collaborate, receive additional skills training or mentorship, and connect as a community making change in the world.
With the support of an Advisor from the Network, a small team of ICCAT graduates in Oregon recently reached a major milestone in their project. They've now successfully built an online information hub for Oregon residents to cultivate individual and community capacity for action.
The team—made up of community leaders Diana Jones, Karen Wolfgang, Pamela Edwards, and David Hakan—had realized that there was no easy way to find opportunities to engage in climate action locally. So they embarked on a journey to fill that gap in their community. What emerged was the Oregon Climate Action Hub.
The Oregon Climate Action Hub is an online database of volunteer opportunities and organizations that makes it easier for Oregon residents to find and connect with local initiatives working to address the climate crisis. By highlighting the leadership of climate justice organizations leading climate action today, the Hub encourages community members to find their contribution towards creating a thriving future for all.
From the early stages of planning, the team consulted with Black, Indigenous, and People of Color stakeholders to better understand how to create a hub that would represent the diversity and wide range of needs in their community. They are currently working with an expert advisor who's supporting them with the strategic development of the Hub.