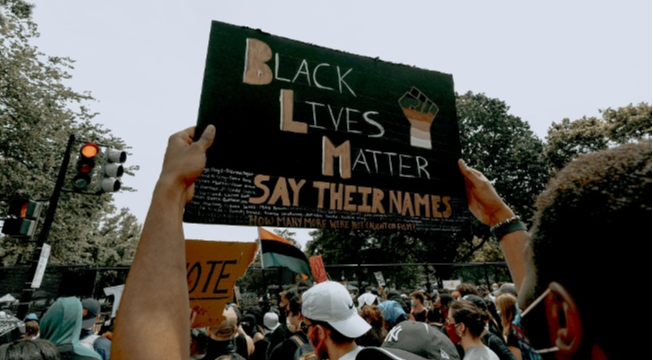 Photo courtesy of Clay Banks.
In the wake of George Floyd's death and global protests against racial violence, Pachamama Alliance hosted a series of discussions about the racial justice issues raised by the Black Lives Matter movement.
Black Lives Matter and the Work of Pachamama Alliance
Pachamama Alliance Co-founders Lynne and Bill Twist, Board Member Reverend Deborah Johnson, and Managing Director Mario Trigueros came together on June 15 for a discussion about Black Lives Matter and the work of Pachamama Alliance.
Mario opened the discussion by recounting his own experience of becoming politicized around police brutality earlier in life. What had become clear to him around that time was the need for social justice, environmental work, and spiritual healing to intersect.
Throughout the call, Reverend Johnson touched on this intersection and the need for both the spiritual work and the practical policy work to dismantle racism. She also drew parallels between social injustice and ecological destruction, saying "footprint on the planet, footprint on the people—it's the same footprint." As she explained it, both crises are the result of our desire to exploit and extract from the Earth and other human beings based on a racialized hierarchy which places people above other species and the planet, and a few people above all others. What's at stake if we don't transform this destructive consciousness is humanity—racial hierarchy and ecological destruction dehumanize us all.
Black Lives Matter: Implications for a Connected Future
On June 22, Pachamama Alliance Managing Director Mario Trigueros hosted a panel discussion exploring implications of Black Lives Matter for the environmental sustainability and spiritual fulfillment movements. This panel included Board Member Rev. Deborah Johnson; Nisha Anand, CEO of Dream Corps; and Jaron Browne, Organizing Director at Grassroots Global Justice Alliance.

Nisha spoke about the role each person has in dismantling racism, and how owning our mistakes and responsibility in perpetuating racism opens the way for agency. If we are the ones responsible, then we can be the ones to enact change.

Jaron drew on his experiences of becoming educated on racism from a young age, and spoke to the responsibility of white folks to understand racism and to refuse to go along with white supremacy any longer. As he put it, we are all interconnected and it's in all of our interest to dismantle the white supremacist system.

Reverend Johnson spoke to the need to address the root causes of police violence against Black/African American people. She referenced the origins of Pachamama Alliance, when the Achuar people of the Amazon rainforest requested that their new partners from the United States "change the dream of the modern world" in order to stop the demand for oil that was destroying their ancestral territories. Drawing a parallel to systemic racism, she said that police violence is actually created by a demand in society, and one that we all contribute to. "The discrimination is just the symptom, the problem is the supremacy—let's deal with it."