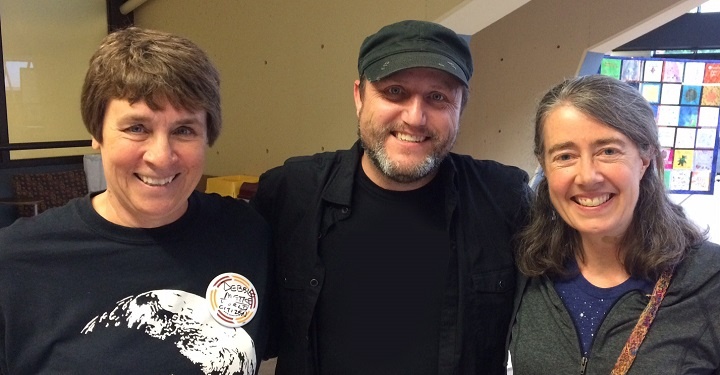 Jason with Debbie of Milwaukee Pachamama Alliance Community and Holly of the Minnesota Pachamama Alliance Community at the Democracy Convention
Pachamama Alliance U.S. Community Specialist Jason Bayless and Game Changing Movement Partner Move to Amend co-presented two Panel Discussions and supported a demonstration with the Overpass Light Brigade at the Democracy Convention III in Minneapolis, Minnesota in August.
The convention gathered representatives from across the spectrum of pro-democracy organizations to help foster cross-sector cooperation and to unite them in a common, deeply rooted, broad based movement for democracy.
Pachamama Alliance believes in the power of community to create change, and even something as seemingly simple as facilitating a meeting can be turned into a powerful community-building skill. At the Panel Discussion How to Grow Your Community, Jason shared techniques that create more inclusive meetings.
Rather than standing in front of the group and giving them a standard framework for how to run community meetings, Jason challenged the attendees to move away from the traditional model. He stressed the importance of respecting all points of view and encouraging all the voices in the room to be heard.
"Most meetings follow the corporate, hierarchical structure of one leader standing in front presenting a pre-conceived agenda," Jason explained to the group. "In order to create a society that empowers and respects people, we need to create meetings with a structure that gives power to the people. We need to ask ourselves "How do we work in a collective that respects and gives equal consideration to others? How do we become aware of and take action on practices that marginalize or exclude others?"
If we are working toward a world that works for all, we need to find new ways to coordinate, to take everyone and everyone's perspective into account. We have to foster techniques that bring everyone into the discussion so that we can harness the passion of every member of the group.
Learning How to Listen
Inclusivity requires not only that every member feels comfortable to participate but also that each member listens to others in the group. Many of us didn't grow up learning how to listen, and sometimes we feel a deficit in how to support our community members to express their points of view.
Jason led the group at the Democracy Convention through the same Deep Listening Exercise that he presents to Pachamama Alliance Communities around the country. It is a technique that teaches people not to listen for right and wrong but to listen for someone's values instead.
"What happens in the normal brainstorming session?" he asked the attendees. "Suggestions fly in from all sides, all at once, and people have to compete to be heard."
Then he asks "What would happen if you acknowledged the person who spoke before you?"
He instructed the group to use a simple formula. "First you say to the person who spoke before you "What I like about what you just said is…
"Then you continue with "What I would like to add is…."
At first, people had a hard time repeating what was previously said. If someone forgot to acknowledge the person who spoke before them, Jason reminded them to keep to the formula. Sometimes people couldn't remember what had been said at all, or they couldn't find anything that they liked.
When that happened, Jason prompted them to say "What I like about what you just said is…that you said it."
As the exercise progressed, the conversation slowed down, people began to listen and reflect back what other group members had said, and new suggestions and ideas started to emerge from the collaborative discussion.
After 30 minutes, Jason asked people how the exercise felt, and then asked them to imagine using the technique in their daily lives as a way to get through moments of friction. He then offered to speak with attendees interested in Pachamama Alliance Community Days and training.
Building the World We Want to Live in
"If we want to build the sustainable, fulfilling and just world that we want to live in, we cannot do it in isolation. We need to build a movement that includes everyone's input. That's where the Pachamama Alliance skills at building inclusive community come to the forefront."
Learn more about Pachamama Alliance Communities and experience Deep Listening skills in action at a Pachamama Community near you.