This past September—in honor of global climate events including the Global Climate Action Summit, Ecuador's 10th Anniversary of having Rights of Nature in their constitution, the People's Climate March, and Climate Week NYC—Pachamama Alliance organized an unprecedented campaign of coordinated action on climate. Thousands of people all around the world made their hearts and voices known by gathering in workshops, events, conferences, and marches to demand that the world address global warming.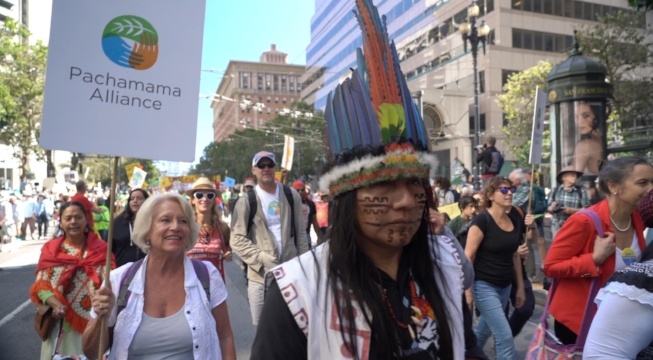 Sápara leader, Manari Ushigua, marching at the People's Climate March in San Francisco, CA with Pachamama Alliance.
Events All Over the World
Throughout the month, Pachamama Alliance community members around the world hosted our dynamic educational workshops—Reversing Global Warming: Introduction to Drawdown and the Awakening the Dreamer Symposium—to spread awareness of the possibility of healing our relationship with the earth and reversing global warming. Over 45 events were hosted worldwide.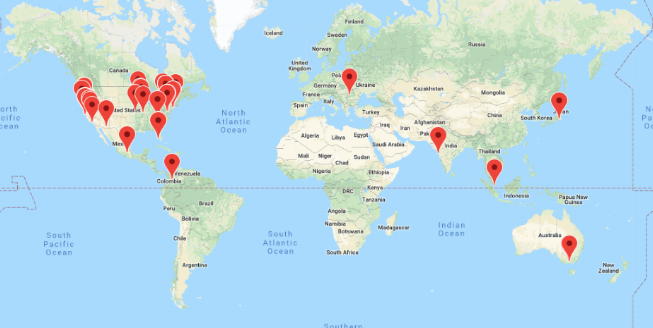 This map shows the locations of the 46 events help by Pachamama Alliance community members this past September.
Among these events were: a panel on Drawdown featuring Pachamama Alliance co-founder Lynne Twist and moderated by 350.org founder Bill McKibben; a "human mandala" aerial art action declaring commitment to climate healing; a panel event in San Francisco featuring our indigenous partners from Ecuador; and a live conference call with Lynne Twist and Project Drawdown Vice President and Research Director Chad Frischmann.
Drawdown Panel
Climate Reality Leader, activist, and Pachamama Alliance community member Elly Lessin organized a presentation and panel discussion on The New York Times Best Selling Book, Drawdown: The Most Comprehensive Plan Ever Proposed to Reverse Global Warming. Hosted at the New York Society for Ethical Culture in New York City on September 24th, this discussion featured Pachamama Alliance Co-founder Lynne Twist and was moderated by Bill McKibben, the founder of 350.org. Over 800 people attended.
Human Mandala
On September 9th, over 20 indigenous leaders from around the world along with supporters gathered at Crissy Field near San Francisco's Golden Gate Bridge to produce a visual message of a "Solar Hummingbird" human installation calling for climate justice and indigenous rights. Pachamama Alliance indigenous ally, Manari Ushigua attended with Belen Paez, the director of our sister organization in Ecuador, Fundacion Pachamama. This event was organized by Dancing Without Borders.
Global Call on Drawdown
Pachamama Alliance Co-founder Lynne Twist and Project Drawdown Vice President and Research Director Chad Frischmann joined a conference call on September 4, 2018, to discuss transforming our relationship to global warming. Listen to the recording.
Our Village Panel with Lynne Twist and Tuntiak Katan
Shuar Leader Tuntiak Katan, several other indigenous leaders, as well as Pachamama Alliance co-founder Lynne Twist and Amazon Watch Founder Atossa Soltani shared the stage at "OUR VILLAGE," an affiliate event of the Global Action Climate Summit focused on bringing indigenous peoples, communities of color, and grassroots voices to the forefront of the Global Climate Action Summit. They dove deeper into the critical importance of the Sacred Headwaters Project not only as a key strategy for representing indigenous sovereignty but also as a key strategy for reversing global warming.
Global Climate Action Summit
On September 12-14, representatives from countries all over the world gathered in San Francisco, CA to celebrate the extraordinary achievements of states, regions, cities, companies, investors and citizens with respect to climate action, and to make commitments for how to take climate action to the next level. The summit included speakers like Jane Goodall, Alec Baldwin, and Al Gore. Representative of our indigenous partners in Ecuador, Tuntiak Katan, also spoke at the Summit, sharing the Sacred Headwaters Project with a global audience for the first time ever. Watch below:
30 days/ 30 ways
Another aspect of the Stand Up in September campaign was the 30 days/30 ways email series. Over 1000 people from 40 countries signed up to to discover daily actions, practices, and meditations focused on building a sustainable, thriving, and just future for our planet. The campaign encouraged people to participate in actions like marching in the People's Climate March on September 8th, and introduced participants to a hundred global warming solutions outlined by Project Drawdown.
Here at Pachamama Alliance, we are so thrilled at the wave of emerging voices this past month demanding that the world address global warming, and we're honored that we could be a part of it.