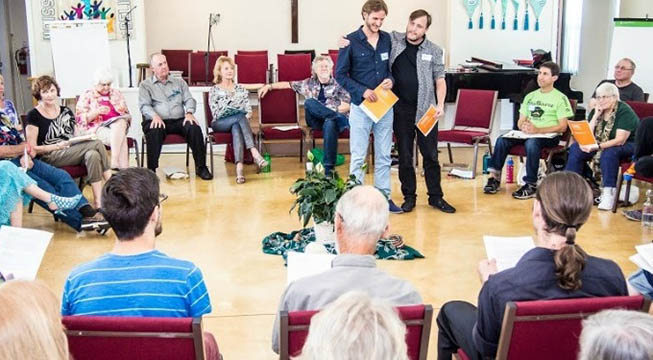 Rogér & Jason model Co-Active Leadership Beside during a Day 2 Exercise.
Photo Credit: Lew Donald

The following is a guest post by Cher Tanner, Community Coordinator for Pachamama Alliance Tampa Bay. Cher has been the Community Coordinator for Pachamama Alliance Tampa Bay since January 2016 and a Facilitator for the Awakening the Dreamer, Changing the Dream Symposium since 2010. She was 'Co-Active Leader Beside' with Sharon Joy Kleitsch who together with the Outreach Team staged two community days with help from loyal Pachamama Alliance members Douglas Bonar, David Sinclair and Rosemary Randall.
Planning for the Unknown
March 1st of 2016, a small group of committed Awakening the Dreamer Facilitators and community members of Pachamama Alliance Tampa Bay (PATB) received an enlivening email from Rogér Knoren stating how terrific the group was and suggesting his team should come and visit! I was one of the recipients of his email, and as I read his idea about co-creating a Community Day in Tampa Bay, I became giddy. In the spirit of Satyana Institute Co-Director Will Keepin's eleventh spiritual principle "to rely on faith," we stepped out into the unknown possibilities and responded with a resounding, "Yes!" I am grateful to Rogér and to his colleague Jason Bayless for reaching out and for our intuitive wisdom to accept and welcome this dynamic duo into our Tampa Bay tribe.
Together we conscientiously planned for months via purpose-driven, 'Doodle-polled' conference sessions and emails. Out of these collaborative discussions, a two-day event emerged as a butterfly does from its chrysalis and fluttered forward, pollinating and capturing many committed hearts by journey's end. In hindsight, everything fell perfectly into place once we found our gathering place. Rev. Mike MacMillan, a local champion of Pachamama Alliance offered Faith United Church of Christ in Dunedin, Florida as our sacred space and perfect place to welcome in our participants. It became readily apparent that many members of his church co-authored the book on event-planning as they pitched in their talents, time, effort and energy to make certain our event would unfold seamlessly. We were ultimately gratified as an abundance of love poured into our Community Day emanating from people arriving from other Florida cities including: Miami, Gainesville, Bradenton, Venice, Ft. Myers and all corners of Tampa Bay.
Learn more about Pachamama Alliance Communities
'Invitation-Only' Day
Day one involved a small group of hand-picked guests. Our hope was that by the end of Saturday, some would step up to become core members of our Pachamama Alliance Community. We dove into our over-stuffed day by initially sharing the vision of Pachamama Alliance and the Up to Us engagement pathway. We discussed what Pachamama Alliance expects of Core Teams and what they can expect from Pachamama Alliance in return. We learned about and role-played with the Co-Active Leadership model developed by Karen and Henry Kimsey-House which explains a unique approach to what shared leadership can look like. We broke bread together and shared special homemade dishes and treats while sharing from our hearts and sampling Laughter Yoga. In the afternoon, we utilized a unique approach toward brainstorming and had scribes harvest our brilliant ideas. We democratically voted on four of the ideas and broke out into teams to create game-plans using the Advice Process worksheet, another new strategic approach toward creative thinking within community, taught to our attendees.
Ultimately, we spent six-and-a-half hours falling in love with each other by the time we arrived at the most salient moment of the day. It was time for "The Ask." Turns out it was an easy segue to ask who wanted to step-up and become Core Team members of the Pachamama Alliance Tampa Bay Community. To our delight, of the twenty-five people present, twenty-one stepped up to be Core Team members of our Community or satellite Florida locations and all of the others wanted to be part of the Florida Communities! Our hearts were all zinging together as we ended our event with a Pachamama Alliance inspired poem "World Mother-Father Sky-Pachamama People" gifted to our newly formed community by poet LizBeth Cone. Since our joy and camaraderie could not yet be unraveled, we continued with cacophonous conversation over dinner at a nearby Hawaiian restaurant.
'Open Up the Doors' Day
Day two opened new doors. We invited a broad swath of activist individuals from around Florida who were already engaged in addressing critical issues facing the world today. We asked them to join us for dialogue, to share passions, and most importantly discover how we could collaborate, promote, and serve each other's efforts for the greater good of our communities and the world at large. Because we knew we could share and learn from each other, we planned to expand our connections across all thresholds: geographic, political, business, nonprofit sectors and activist action groups. To our gratification, many of our new Core Team members came back for this event. We began the afternoon by educating the gathering on the history and mission of the Pachamama Alliance and we explained and modeled the Co-Active Leadership skills—this was a review for folks from the first day and new information for most. During this time, we also participated in an experience for the gathering that provided a free-flow exchange of ideas, addressing the question of, "How do we build on/strengthen the collaboration that is already happening in this room and in Florida." Participants gathered based on curiosity for a specific topic based on the ideas that came out of the free-flow idea exchange into small-group discussions. After the small groups completed their discussions, a representative of each group presented a synopsis of the experience to the entire group.
Find or start a Pachamama Alliance Community near you
We had a terrific turnout for this Game-Changing Community Day. Fifty-plus caring, committed souls showed-up to shore-up personal, professional, and organizational support systems within our gathering. Our goal for the day was to open the doors to each other's hearts in order to work more collaboratively in the future by offering emotional support and active participation in each other's missions and initiatives. It felt like we achieved our goal because by the end of the day all the participants reiterated how important it was to them to be able to remain connected. Echoing through my mind was the refrain, "Once we were lost, and now we are found."
These two days confirmed what we already knew, the desire and need for community runs deep inside our veins and we have a common realization that we are all in this together. By the end of these Community Days, we experienced of Thich Nhat Hanh's concept of "Interbeing." We came together as one with a clear understanding that we must collaborate diligently if we hoped to create, as Charles Eisenstein calls it, "The more beautiful world our hearts know is possible."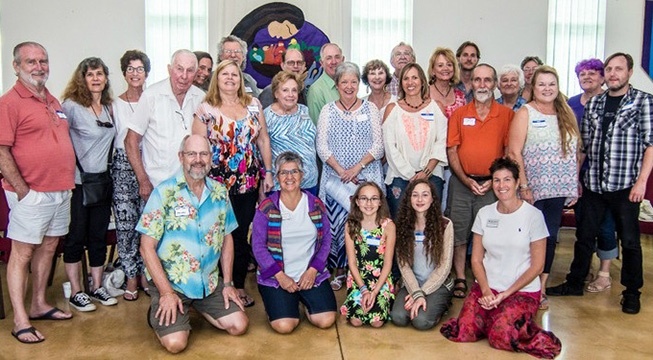 Pachamama Alliance Tampa Bay Core Team & Community Members.
Photo credit: Lew Donald
Let the Game-changing Begin
The ether of those Community Days continues to permeate my pores. My heartbeat scampers in anticipation of our next face-to-face meeting to begin the work we are all committed to do together. There is much to decide; it's challenging giving birth to a new Community. What is our mission? What are our goals? Who leads what? What initiatives do we want to begin first? How will we continue to meet and collaborate? I feel like the Co-Active Leadership model and the Advice Process Worksheet will be invaluable tools, concepts, and strategies for successfully answering those questions. Personally, I can't wait to have a heart-to-heart connection again now that we have declared being members of our Pachamama Alliance Tampa Bay Core Team and Community. I think the dynamics will feel different, more aligned, more purposeful. We are all entering into a new commitment to the world, bringing compadres with us imbued with talent, brilliance, aspirations, ideas, energy, love, and promise.
So, I think we're ready to let the game changing begin by putting one foot in front of the other, moving forward one day at a time, realizing it is Up to Us and knowing that as Pachamama Alliance Co-founder Lynne Twist loves to say, "Together we are genius!"