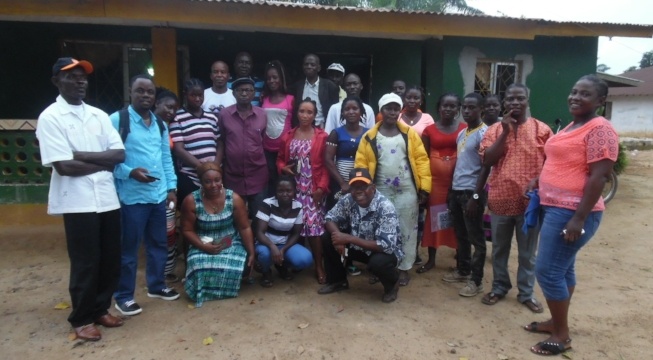 Awakening the Dreamer Symposium Participants
On May 11, 2018, 25 members of the Buchanan community in Grand Bassa County, Liberia gathered in the conference room of Magic FM—a radio station in Buchanan—for the first ever Awakening the Dreamer Symposium in the country. For most, this meeting was their first introduction to Pachamama Alliance, and for the next two hours, Facilitator Christopher Yarwoe (Chris) led them through a transformational experience, stimulating rich discussions about what Liberians need, want, and see possible for the country.
Chris manages Magic FM 99.7, and was introduced to the Awakening the Dreamer Symposium by Torli Krua, another Bassaoian, who runs Universal Human Rights International (UHRI), an African human rights organization located in Boston. For months, Chris has been utilizing radio not only to disseminate news, but to gather the community around topics of community rights, environmental sustainability, and spiritual fulfillment. All Fun Day—a weekly Saturday event of games, entertainment, and recreation—has proved popular with county members.
"The objective is to bring community together to share fun with each other through recreation," says Chris. "Through this means, the community dwellers will discuss how to keep their environment clean and bring about social change."
When asked what issues he's most concerned about, Chris says that Liberians need to be empowered to create the change they want. He elaborates that Liberia has abundant resources, but its citizens receive little to none of the benefits that such resources provide. Instead, systemic corruption keeps profits in the hands of very few.
"According to the Mineral Development Agreement [an agreement between the Liberian government and mining companies] local communities should receive 20% of mining and logging profits," Chris explains. "Citizens need to know their own rights. Ordinary citizens need to be empowered so they don't rely on the government." He adds that Pachamama Alliance's programs can be useful in improving and transforming lives.
It was through the power of Magic FM that 25 members of Bassa County found themselves at Chris's presentation of the Awakening the Dreamer Symposium that May afternoon. Participants spoke of the leadership crisis in government, the need to work together to address climate change, and the necessity of robust journalism in exposing and eventually eradicating corruption. A success, this initial meeting prompted a second follow-up meeting on May 19, in which 12 people participated, including community members who have physical and visual disabilities. During the course of the meeting, the Pachamama Alliance Initiative of Liberia (PAIL) officially came into being.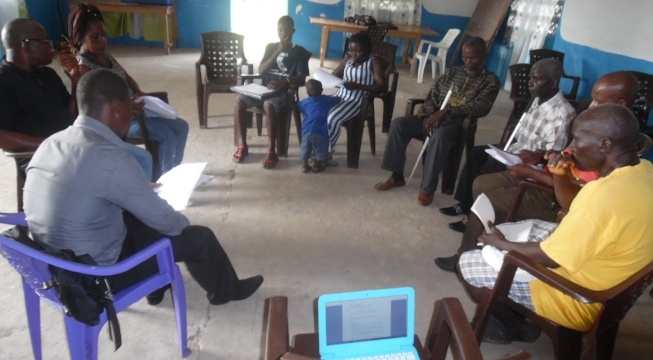 The follow-up meeting where PAIL was formed
As for what's next, there is to be a third meeting where the PAIL core team will be formed. The core team will then identify which of Pachamama Alliance's educational transformational programs to offer the community next. PAIL also hopes to introduce Pachamama Alliance to their local government.
Meanwhile, Chris has been busy strengthening the role that radio can play in community action. He has launched the Association of Grand Bassa Media Network in Buchanan, and was elected chairman for two-and-a-half years. He has also helped launch a scholarship fund drive to raise $10,000 USD in education funds for radio journalists, an important step in creating conscious and honest journalism.

"The aim is to help community radio journalists acquire college and university educations and to come back with the commitment to serve the citizens and residents of the county for the period of two years," reports Chris.