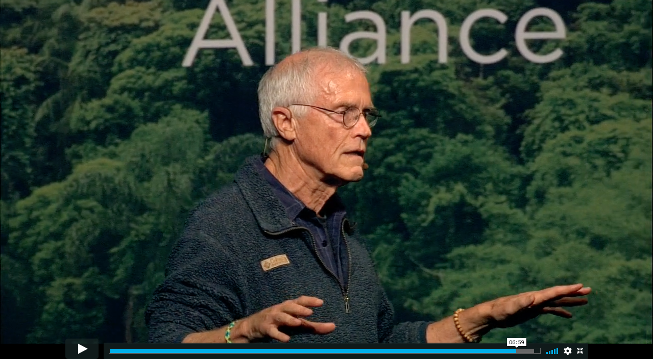 Pachamama Alliance's 2019 Annual Luncheon Fundraiser in San Francisco took place on Thursday, November 14. Thank you to everyone who was able to join us in person or online.
Hundreds of people were inspired to donate to support this work. Join them.
Here are a few selected highlights from our 2019 Annual Luncheon Fundraiser to update and inspire you.
1. Paul Hawken, Author of Drawdown: the most comprehensive plan to reverse global warming and Founder of Project Drawdown
"I don't think anybody understands how serious this situation is... We might have had time at one time. Moderate action might have made sense. Reduction, net-zero, these terms might have made sense at one time. None of them make sense today. What we have to do, each one of you, is embody a sense of urgency and agency."
2. Narcisa Mashienta, Program Director of Ikiama Nukuri
"The Ikiama Nukuri program has not only saved the lives of thousands of mothers and babies, it has also allowed women like myself to become leaders, to demonstrate, to protest, to take public office, and to be strong and have a voice defending our forest not only for ourselves, but for all life."
3. Manari Ushigua, Sápara Spiritual Leader
"All people who inhabit the world must take care of this place on the planet... Currently the fires in the Amazon of Brazil and Bolivia directly affect the future and the being of mankind because we people have caused them. We have accelerated global warming and the mutation of life. We now must be aware and pay close attention to what we do, to our actions, every day."
4. Mario Trigueros, Educational Programs Director
"These young people did nothing to create this mess. I have a 3 year old and a 5 year old completely at the mercy of what we choose to do with the time that we have left. This isn't the moment to pass the baton. This is our moment. This is our responsibility and opportunity to spend the time we have left to create the future we know is possible and is needed, and to do it with our full hearts."
Take your first step with us to get involved in this movement to reverse global warming by taking our 90-minute, free online course, Reversing Global Warming.
5. Director of Fundacíon Pachamama, Belén Páez
"Our project has been also empowering women to find their voice and participate with the men in defending their territories. Women are now taking leadership positions in their governing organizations. It is a very important change."
6. Pachamama Alliance CEO and Co-founder Bill Twist
"The Sacred Headwaters Initiative is about protecting one of the most biodiverse places on the planet, and it's also a project that's important because it's contributing to addressing global warming because we're protecting forests and leaving the oil in the ground where it ought to be."
7. Pachamama Alliance Co-founder, Lynne Twist
"We in the U.S. subsidize oil companies with $26 billion a year. And 1/1000th of that is spent on natural solutions to global warming. We've got our priorities all wrong with money in this country and in this world."
Watch the Full Recording of our 2019 Annual Luncheon Fundraiser