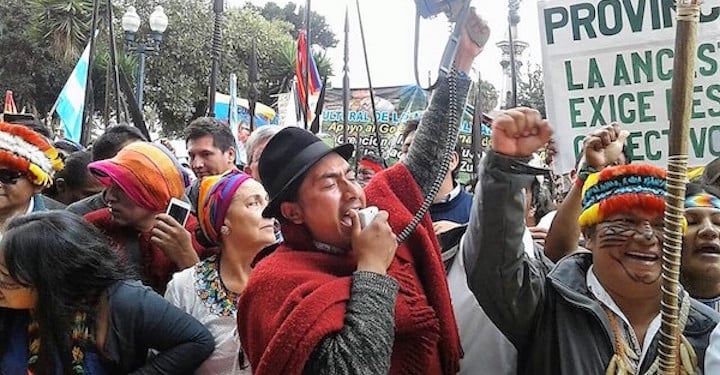 Dear friends,
I am writing to share this very important update on our work in Ecuador. Last week a group of 3000 indigenous marchers—some having traveled nearly 200 miles on foot from the Amazon region—gathered to demonstrate for justice in front of the Presidential Palace in Quito, Ecuador. President Lenin Moreno met with the leaders and after nearly four hours of discussion agreed to halt expansion of new oil and mining activities in indigenous territories.
This is a huge victory for the indigenous people and for the environment. It represents a 180 degree shift from the policies of Moreno's predecessor, Rafael Correa, who was dismissive of the indigenous movement and aggressively pushed for oil development in Ecuador's Amazon region. It's important now that we continue our support of the indigenous communities so that they have access to the resources needed to further the dialogue around these issues— resulting in new legislation and firm commitments from the government. The next several months are going to be critical to solidifying those commitments.
Make a donation to support this work.
This is also a major opening for advancing the vision of the Amazon Sacred Headwaters Project that Pachamama Alliance has been supporting and that aims to permanently protect and ban all industrial level extractive activities from the untouched rainforest regions of Ecuador.
After President Moreno took office in April, dialogue was initiated between the government and the indigenous nationalities over an array of issues ignored by the previous administration—bilingual education, land rights, water, food security, regional transportation, criminalization of dissent, and oil and mining. After several months of initial progress, the dialogues stalled and seemed to be going nowhere. The march was organized to force the government to deal with these issues.
Donate to support the indigenous leadership in advocating for these issues.
Although the meeting was forced upon the government, an important detail of the meeting portends a new healthy and hopeful approach of the government in its relationship with indigenous people. Under Correa meetings with indigenous leaders were adversarial with parties on opposite sides of the table both figuratively and literally. In this meeting, Jaime Vargas who is the President of CONAIE, the national indigenous organization of Ecuador, was invited by President Moreno to sit at his right hand side—symbolic of a new respectful and collaborative approach.
Make a donation to ensure continued legal support for the indigenous communities in the Amazon.
One of Pachamama Alliance's main focuses now is to insure that CONAIE and CONFENIAE—the organizations specifically representing the indigenous peoples in Ecuador's Amazon region—have access to the best technical and legal advisers to support them in dialogues with the government. This will also require significant amount of logistical support so that leaders can travel to their remote communities to gather information and perspective and keep everyone fully informed. We are also considering reaching out to advisers in Colombia where the indigenous movement just participated in historic negotiations with their government ending decades of internal conflict.
We must ensure continued logistical support for indigenous communities in the Amazon. Please make a year-end donation to support the indigenous people at this historic moment.
In partnership,
Bill Twist
Pachamama Alliance CEO