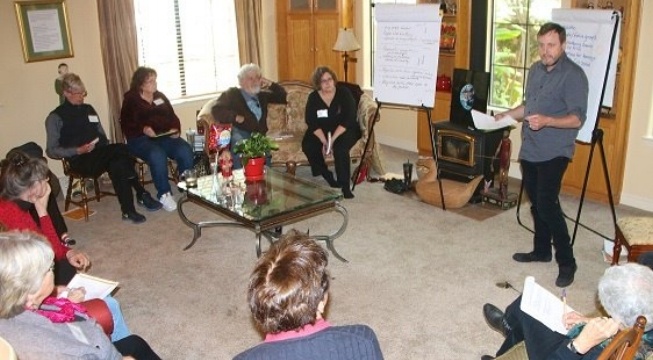 Jason presenting at the Community Day.
On Thursday, February 1, 2018, Pachamama Alliance staff members held a Community Day in Fresno, California. Twelve people from surrounding communities attended the events hosted by Pachamama Alliance staff members, Rogér Knoren and Jason Bayless; and the Fresno Pachamama Alliance Community Day planning team, Jennifer Brodeur, John Minkler, Brian Sciaroni, Robert Mertens, and Helena Mertens.
Read the Pachamama Alliance Fresno Community's reflection on their Community Day.
About Community Days
Pachamama Alliance has co-created tools and resources needed to grow sustainable and effective Pachamama Alliance Communities, in order to grow a critical mass of committed people who are changing the dream of the modern world—shifting the dominant culture of consumption that drives environmental destruction to one that honors and sustains life.
One of these resources is what we call the Community Day. The Community Day is a workshop that provides training around the roles of leadership, deep listening, and collaboration. This workshop is co-created with the local Pachamama Alliance Community to reflect their local needs and we integrate personal transformation and ways to organize so we can develop systems and structures that support Communities working toward meaningful change on local and global levels. Communities also design their group structure and identify Core Teams.
About Community Core Teams
Using elements from Pachamama Alliance's Up to Us engagement pathway, the Community Day aims at building Core Teams. Core Teams are small groups of individuals who see that their greatest contribution to the world is to keep others engaged in important action to change the course of the modern world while inspiring them to be the kind of human being necessary for global transformation to happen.
After the Community Day in Fresno, a new Core Team of 9 individuals was created, and their commitment is to building a sustainable, effective, and growing community of active citizens as a means to bringing forth a sustainable, just, and fulfilling world.
Support for Action through Community
If you or your community would like to bring this workshop to your area, contact the Pachamama Alliance Community Development Team at support@pachamama.org.
To learn more about the Community Day in Fresno, visit this post on the Pachamama Alliance Global Commons to read personal reflections from the members of the Tampa Bay Pachamama Alliance Community.