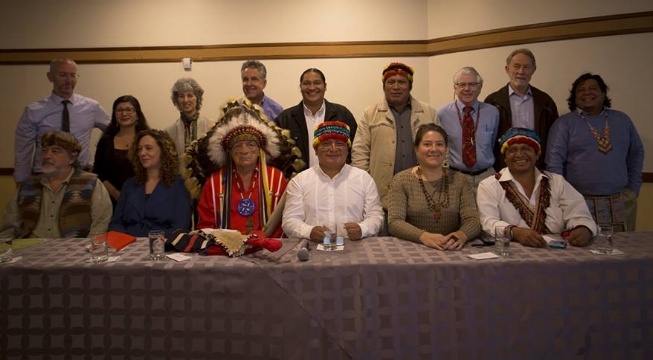 Press conference with members of the delegation in Quito, Ecuador.
In late February, Pachamama Alliance Co-founder Bill Twist joined with a delegation of indigenous leaders and environmental activists from Canada and the United States to travel to Ecuador's Amazon rainforest region. The delegation was organized by Pachamama Alliance and Amazon Watch to bring this delegation's experience and ideas and possible partnership to the Amazon Sacred Headwaters Project.
The Sacred Headwaters Project's goal is to secure permanent protection of the headwaters region of the Amazon river-basin, approximately 60 million acres in Ecuador and Peru. The project is coordinated by Pachamama Alliance, Amazon Watch, and CONFENIAE, the governing federation for Ecuador's Amazonian indigenous people.
The delegation spent five days visiting the indigenous communities of the Sacred Headwaters region, seeing both areas damaged by oil development and pristine primary rainforests where the communities are fiercely committed to preventing any incursions of oil or other extractive activities.
North-South Alliances
The delegation members represented many years of experience in successfully securing protection for the Great Bear Rainforest in Canada, nearly 20 million acres of temperate rainforest on the Pacific Coast of British Columbia. And so, in addition to cultural exchanges, there were many conversations—through extended three-language, back-and-forth translations—about the shared challenges indigenous people face in the North and the South, about the Eagle and Condor prophecy, and the importance of building North-South alliances among indigenous peoples.
The indigenous communities in Ecuador have been actively challenging the Ecuadorian government's proposed oil and mining activities in indigenous territories. The presence of the delegation and the emergence of a North-South alliance was an opportunity to demonstrate to the government the international visibility and importance of protecting the Sacred Headwaters region. To that end, the trip concluded with a press conference in Quito, Ecuador's capital city, that attracted the country's main television and newspaper organizations and provided wide coverage to the general public.
Overall the trip was very successful and involved a whirlwind of activities—flights into the forest in small planes, river rides in motorized canoes, hikes in the forest, and many hours of conversation supplemented with ample amounts of a fermented manioc drink, chicha—the local beverage of choice. As a next step to the trip, the delegation is now exploring further forms of collaboration with the Sacred Headwaters Project—recruiting additional partners, researching ideas and innovations for protection, and raising long-term funding. We will keep you posted.