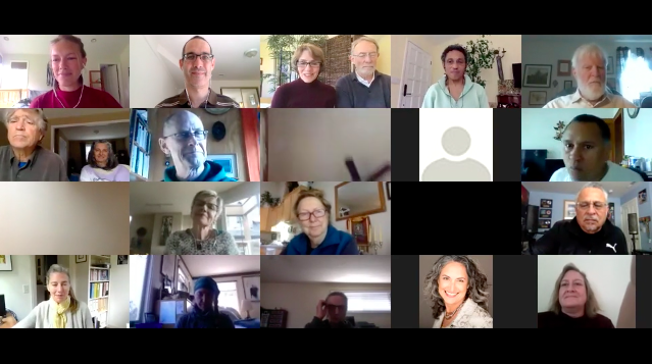 A screenshot from a recent Zoom call with the Pachamama Alliance global community.
Responding to the Pandemic
The Pachamama Alliance team in San Francisco has been planning and adjusting our operations to best serve and meet the needs of our community during the COVID-19 outbreak.
We have been re-examining what is needed in the world and determining how to adapt our programmatic work accordingly.
Given the worldwide orders to stay inside, we are not only continuing to share our online courses and workshops, but we are also exploring new ways to bring our global community together online at a time when connecting with others is so important.
Launching Resilience and Possibility in These Times
Earlier this week, we launched Resilience and Possibility in These Times, a series of online offerings that allows you to connect with others from around the world while you practice physical distancing at home.
The series includes webinars, trainings, discussion forums, and check-ins to explore skills and ideas that are not just critical for getting through these uncertain times, but also for bringing forth a thriving, just, and sustainable future.
On Monday, we held a call with Pachamama Alliance Co-founders Lynne and Bill Twist who spoke with Board Members Rev. Deborah Johnson (Rev. D) and Kristin Walter about what they are seeing during this time of great uncertainty and change during the COVID-19 pandemic. It was the first of many online offerings we plan to host.
How can you get involved? Access recordings of past offerings and see what offerings we have coming up at our Resilience and Possibility home page. And sign up to get a weekly email outlining each week's offerings for you to stay connected and grounded amid the COVID-19 pandemic.