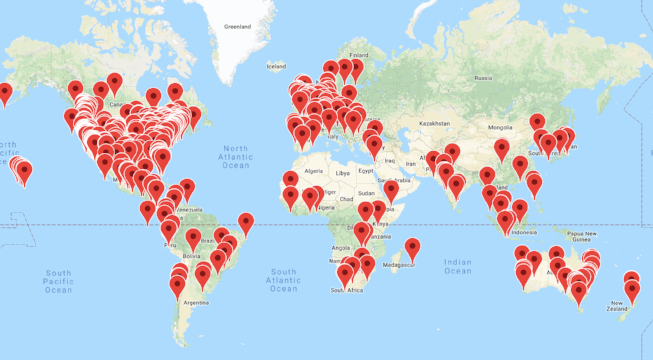 This map represents the 1,800 members of the Global Commons, Pachamama Alliance's online community.

A Year of Discovery
The Pachamama Alliance online community, the Global Commons, was launched in Fall of 2017 and has grown steadily since to reach more than 1,800 members from 58 countries by the end of its first year.
The community brings together Pachamama Alliance program participants, supporters, and leaders to connect locally and globally to enable everyone to bring forth their unique contributions, and for a deeper sense of purpose to emerge in connection with others.
40 groups have developed representing geographic areas around the world, and more than 350 events have been hosted that inspire participants with the vision of Pachamama Alliance: an environmentally sustainable, spiritually fulfilling, socially just human presence on this planet.
A Key Role to Play
At Pachamama Alliance, we believe that in order to address the complexity of the issues the issues humanity faces, it will take millions of awake, engaged people working skillfully together in an ecosystem of collaboration.
The Global Commons connects participants from Awakening the Dreamer, the Game Changer Intensive, the Drawdown Initiative, Pachamama Journeys, Pachamama Alliance Communities, and anyone passionate about creating a new future for humanity.
Members connect around current events, personal discoveries, and community activities to create and collaborate in a space of partnership and possibility that empowers them to make a difference in their own communities.
What's Next
The successes of the past year are just the beginning for the Global Commons. The vision is that it can serve as a place where everyone committed to a thriving, just, and sustainable world can find connection, collaboration, and inspiration.
Featured discussions have brought members together monthly around topics in the world, and interest groups are emerging where they explore specific themes more deeply with each other.
As the Global Commons continues to grow, member-led initiatives will play an increasingly important role allowing new insights and ideas to emerge that serve the entire Pachamama Alliance community.