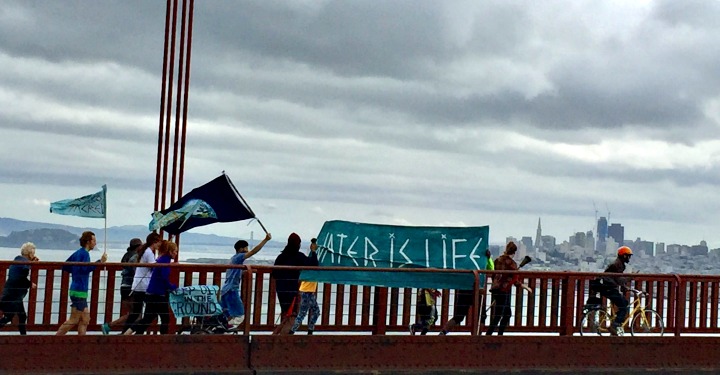 Runners crossing the Golden Gate Bridge.
On Sunday, February 5th, as part of World Interfaith Harmony week and in collaboration with other organizations, Pachamama Alliance co-hosted the Inaugural 7th Generation Global Wopida Run in San Francisco, California.
Youth runners from the Standing Rock Sioux Tribe, the Oceti Sakowin, and the Seven Council Fires of the Great Sioux Nation, joined by local 7th Generation runners from the Four Directions ran across the Golden Gate Bridge carrying a Compassion Torch of solidarity and hope from Standing Rock to the Great Meadow at Fort Mason Park.
Runners crossing the Golden Gate Bridge
Runners Arriving and Speaking at Fort Mason Park
Once at Fort Mason Park, the runners took the stage to share their message, that at this time of great global change, the promised time has come for the 7th Generation to arise and inspire all generations to heal and resolve "Standing Rocks" everywhere on Mother Earth. The Wopida ceremony, a sacred sharing of gratitude and connecting with all beings through giving, followed.
The Wopida Ceremony