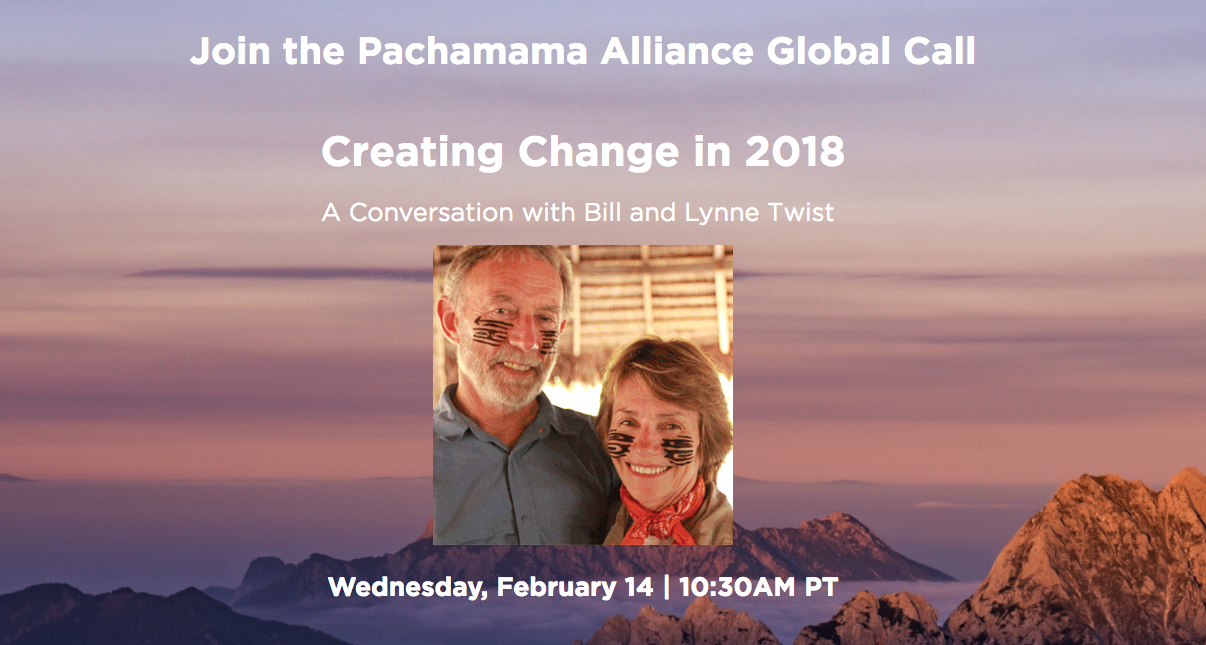 Listen to the Recording
A Big Year for Pachamama Alliance
The global Pachamama Alliance community connected with Co-founders Lynne and Bill Twist on February 14, 2018, for a conversation about the year ahead.
The Twists shared significant updates about the twofold mission of Pachamama Alliance: to empower indigenous people of the Amazon rainforest to preserve their lands and culture and, using insights gained from that work, to educate and inspire individuals everywhere to bring forth a thriving, just and sustainable world.
Plans are moving forward to reopen Fundacción Pachamama, a sister organization in Ecuador that organizes indigenous communities in the Amazon rainforest, which the Ecuadorian government shut down four years ago. This change in policy has accompanied increased dialogue between the government and indigenous communities and represents a big step forward for protecting indigenous tribes' lands.
In that context, the Sacred Headwaters Permanent Protection Project is gaining momentum. Bill joined the call from Ecuador where he is meeting with local indigenous leaders, indigenous leaders who were able to permanently protect the Great Bear Coastal Rainforest of British Columbia, and delegates from the United Nations to explore long term preservation solutions.
And Pachamama Alliance has two new workshops for people everywhere to be inspired by the spirit of this work and to get into action in their communities. A new version of Awakening the Dreamer is now available, and a pilot program about reversing global warming is beginning to be offered around the world based on the work of Project Drawdown.
Connect with the Pachamama Alliance Community
Pachamama Alliance Global Calls are opportunities for participants in Awakening the Dreamer and the Game Changer Intensive, volunteer Facilitators and Moderators, Journey participants, donors, and anyone committed to bringing forth a thriving, just and sustainable world to connect around this common vision.
Join the next Global Call for an opportunity to connect with the global Pachamama Alliance community.