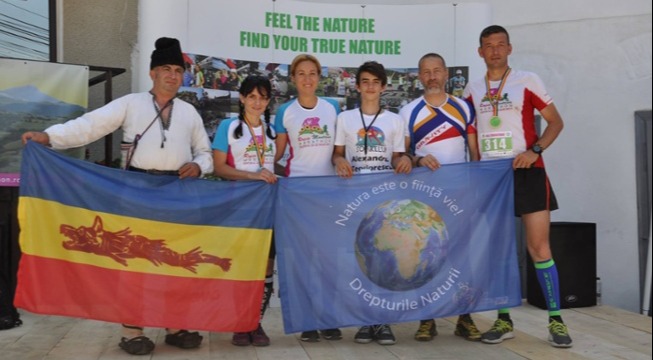 Photo courtesy of Pachamama Romania.
Despite the unprecedented challenges that 2020 has brought, many Pachamama Alliance Communities have remained active, adapting many of their in-person events to online events and continuing their climate change initiatives while meeting the needs of their communities. During a time when many people are experiencing isolation, resignation, and uncertainty, Pachamama Alliance Communities continue to provide ways for people everywhere to stay connected, stay in action, and stay committed to a vision of a world that works for all.
Below are brief summaries of the work that several Pachamama Alliance Communities around the world have been engaging in so far this year.
How the Pachamama Alliance Community in Liberia is Addressing COVID-19 Locally
In April and May, the Pachamama Alliance Community in Liberia (PAIL) raised funds to help communities in the Buchanan area mitigate the spread of coronavirus. With the funds raised, PAIL was able to distribute hand-washing stations for seven communities in the area, ensuring that everyone has access to clean water and soap upon entering the communities. The number of coronavirus cases in Liberia has been kept around 1,300 to date.
Pachamama Alliance Rochester Area Community Gets into Action with Local Drawdown Solutions
The Pachamama Alliance Rochester Area Community has galvanized Rochester area residents into climate action through the Drawdown Solutions: Getting Into Action course. Participants of the course have formed local groups to bring climate change solutions promoted by Project Drawdown to the Rochester area.
One of groups that had formed was inspired to start a community-wide initiative to reduce food waste and promote composting. The initiative, called L.E.T.T.U.C.E. or Lowering Emissions Through Thoughtful Unified Community Engagement, seeks to educate people on reduced food waste and composting through educational materials and face-to-face outreach. Though face-to-face outreach has had to stop because of COVID-19, the group meets regularly online to focus on ways to spread awareness and to explore opportunities to collaborate with advocates and businesses.
Two participants of a Drawdown Solutions: Getting Into Action course hosted by the Pachamama Alliance Rochester Area Community have joined together to form the Penfield Community Choice Aggregation Residents' Committee. This Committee seeks to bring Community Choice Aggregation (CCA) to Penfield so that Penfield residents have access to 100% clean, renewable electricity.
Seven Generations Community Adapts Drawdown Materials into Japanese
When the book Drawdown: The Most Comprehensive Plan Ever Proposed to Reverse Global Warming was released in 2017, the Pachamama Alliance Community in Japan—also known as Seven Generations—knew how important the book was going to be for their country's efforts to address climate change. Soon after the book's release, the Community translated Pachamama Alliance's Drawdown Initiative program materials into Japanese, and began contacting publishing houses and people in their network to make the Drawdown book available in Japanese as well.
Their incessant efforts and fierce commitment have paid off, and soon the Drawdown book will be available in Japanese. Over a 1,000 people have pre-ordered copies of the book, making it possible to secure the funds to publish the book by the end of 2020. The Community also plans on hosting a series of Drawdown courses and trainings beginning in October 2020.
Environmental Conservation and Economic Empowerment through Tree Planting in Kenya
Inspired by Project Drawdown, the Oyugis Pachamama Alliance Community has started executing on their 2020-2030 reforestation plan to plant over 11 million trees in the Homa Bay and Kisumu areas, located along the shore of Lake Victoria. On September 21st alone, they planted 20,000 trees. They plan on planting 600,000 trees in the first year, which would result in 100 families having direct economic benefits of the tree planting initiative.
The effects of climate change in this region have resulted in environmental degradation, food insecurity, and increased poverty levels. This project will help mitigate these effects, bringing families a sense of grounded optimism and an opportunity to nourish and regenerate their communities.
If you'd like to support this initiative, you can do so here.
Pachamama Alliance Community of Southwest Florida: Creating Powerful Collaborations for Environmental Sustainability
The Pachamama Alliance Community of Southwest Florida has continued to advance powerful initiatives through strategic collaborations, such as the Florida Rights of Nature Network. Several members of this Pachamama Alliance Community are heavily involved in Rights of Nature initiatives on both the national level and local level. Currently, they are supporting an initiative in Orange County which seeks to establish a Rights of Nature bill of rights in order to protect two major rivers in Orange County. At the same time, the Pachamama Alliance Community of Southwest Florida is working to secure a local bill of rights for the Caloosahatchee River that will establish Rights of Nature in Lee County.
The Pachamama Alliance Community of Southwest Florida is also partnering with the Sierra Club and other local groups to provide over $12,000 of grants to two Lee County high schools so that students can create solar power projects that will benefit their schools as well as their communities. The Community is also part of a small group working to establish the Southwest Florida RESET (Restorative Environmental Social Economic Transformation) Center. This Center will be a bioregional hub for organizations to collaborate on climate change and regenerative agriculture.
Pachamama Romania Programs Continue to Make a Difference
Despite the challenging year, the Pachamama Romania Community continues to bring educational opportunities and environmental initiatives to communities throughout Romania. It offers Pachamama Alliance's Transformational Educational Programs to schools in five different cities across Romania, often for high school students. Pachamama Romania also has plans to launch a program of its own, the Sacred Journey Program, for families who wish to connect with the sacred lands of Romania.
Pachamama Romania also organizes an annual Rights of Nature Marathon, which recently took place in Rosia Montana—the biggest gold deposit in Europe. Open mining in the Rosia Montana area was stopped in 2013, thanks to the work of Pachamama Romania as well as other initiatives organized by civil society. Currently, Pachamama Romania is working with others in the United States to bring legal rights to Rosia Montana in hopes of bringing greater protections to this area.
Pachamama Alliance Iberoamérica Community Hosts the Interser Journey Online Event
The Pachamama Alliance Iberoamérica Community is home to several local communities across the Iberoamérica region, which includes countries in Latin America, Spain, and Portugal. In 2019, the Pachamama Alliance Iberoamérica Community hosted the first Interser Journey in Brazil, which brought people together to explore how to collaboratively build a better future. This year, Interser Journey will be offered online.
In Spanish, "interser" means interbeing, a term from Buddhist monk Thich Nhat Hanh. Interser Journey is a series of events designed for people who wish to turn their dreams into palpable initiatives and projects that create changes for the benefit of all. Through a series of weekly online gatherings with interactive experiences and learning opportunities, Interser Journey fosters connections as well as a sense of possibility among people with a common goal of transforming the world.
Pachamama Research Triangle Park Continues to Build Community
The Pachamama Research Triangle Park Community adapted to the new reality of COVID-19 early on, brainstorming ways to continue their work with Drawdown while building community through online events. Since the start of the COVID-19 pandemic, the Community has hosted a total of 16 online events, including Introduction to Drawdown workshops and community discussions on the Lexicon of Sustainability video series.
The Community also hosted an event where participants learned how one community analyzed the Project Drawdown solutions for reversing global warming and is now using some of the solutions to shape its future. This provided participants with a useful case study in how a mid-sized town was able to bring local climate solutions to their communities.
Pachamama Alliance Communities
Pachamama Alliance Communities connect people locally and globally to inspire, educate, and empower each other as we build a movement towards an environmentally sustainable, spiritually fulfilling, socially just human presence on this planet. Communities act directly at the local level as part of a worldwide network committed to personal and social transformation. This work takes many forms to promote deep learning, community building, and collective action.
Learn more about Pachamama Alliance Communities.